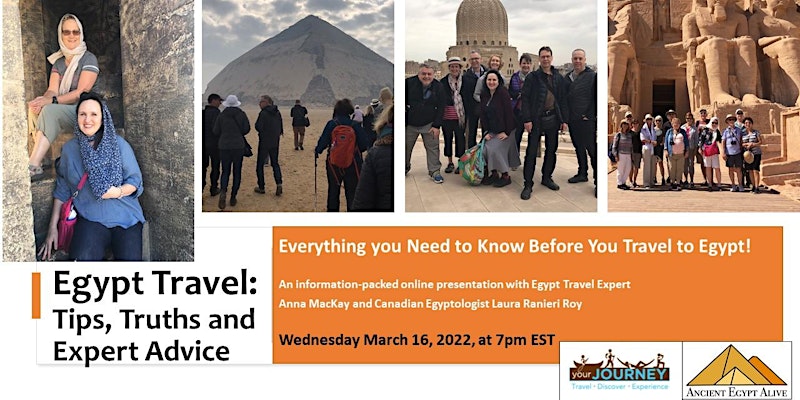 Description:
Learn all the insider secrets to touring Egypt today- with Canadian Travel Expert Anna MacKay and Canadian Egyptologist Laura Ranieri Roy!
Are you thinking of traveling to Egypt in the coming years? Wondering if it's safe, easy to get around- and how to get the most out of your experience?
Let veteran Egypt travel experts Anna and Laura whet your appetite for the journey and give you the low down on:
How best to plan your trip
Climate and culture: what you can expect
Traps and treasures: how to avoid missteps and ensure the most pleasurable experiences
Must-sees: Not to be missed sites and experiences
Getting ready: packing and preparation tips
Cuisine: All about the food
Rest Easy: Safety and logistics information
Together, Laura and Anna have been leading small group, expert-led trips to Egypt that garner rave reviews for over a decade, Even before they teamed up, Anna herself has spent 30 years sending travelers safely through Egypt and around the world Let their expertise inform and enrich your next Egypt visit!
About Laura Ranieri Roy, Founder and Director Ancient Egypt Alive
Laura is an accomplished Egyptologist, educator, presenter, and writer.
She is the founder and director of Ancient Egypt Alive (2013) and its emerging affiliates Ancient Greece Alive and Ancient Worlds Alive. Her vision is to educate and inspire history lovers about great civilizations through learning events, online resources, and travel experiences.
Laura holds a master's degree in Near & Middle Eastern Civilizations from the University of Toronto and has excavated at the ancient Greek site of Apollonia in Bulgaria, and in Egypt at Amarna and South Asasif (Luxor). She creates specialized tours and has traveled to Egypt at least 12 times (losing count now).
Prior to Egyptology, she has been variously a Shakespearian actress, singer-songwriter, TV travel host, communicator, comic improviser, and copywriter. She has traveled to dozens of countries around the world and was last in Egypt fall of 2021!
About Anna MacKay, Founder & Owner, Your Journey Travel
A true veteran of the travel industry, Anna has been exploring the world and helping other people explore it since 1982, and her attention to detail when creating a trip borders on an obsession. From her early career in Vancouver agencies through leading large groups for Eldertreks, she has in-depth experience with all aspects of travel – and virtually every destination
Anna has climbed Kilimanjaro – twice – walked on the Antarctic continent, come face to face with Mountain and Lowland Gorillas. She has hiked the Inca Trail to Machu Picchu and steamed down the Bramhaputra River. She has crawled through dozens of tombs and pyramids in Egypt – and, together with Laura Ranieri Roy, raised thousands for archaeology sites and Egypt animal sanctuaries.
Anna has won Now Reader's Choice for Best Travel Agent in Toronto both in 2021 and 2018.
---
---
More upcoming events