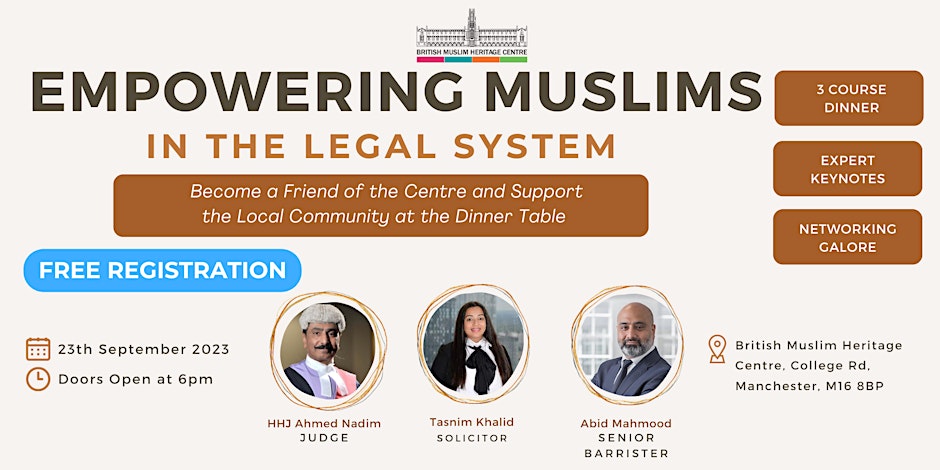 Description:
Join Us for an Enlightening Discussion on Advancing Justice and Equality: Empowering Muslims in the Legal System
Date: Saturday 23rd of September 2023
Time: 6pm – 10pm
Location: British Muslim Heritage Centre, Whalley Range, Manchester, M16 8BP
The pursuit of justice knows no bounds, and equitable representation in the legal system is essential for a fair and inclusive society. Our event, "Advancing Justice and Equality: Empowering Muslims in the Legal System," brings together thought leaders, legal professionals, and community advocates to explore the critical intersections of law, culture, and religion.
Event Highlights:
Exploring Legal System Design: Engage with experts as they delve into the intricate ways legal systems can be designed to ensure fair representation and protection for Muslims. Discover how addressing issues like religious freedom, cultural sensitivity, hate crimes, and non-discrimination can shape a more inclusive legal landscape.
Special Guest Speakers: We are honored to have Judge Ahmed Nadim, Tasnim Khalid and Barrister Abid Mehmood, esteemed professionals in the legal field, share their insights and experiences. Their expertise will shed light on the challenges and opportunities that lie ahead.
Entertainment: To be announced
Uncover the challenges that Muslim communities face when seeking justice. From language barriers and cultural biases to economic disparities, we'll dive into the obstacles that can hinder equitable access to legal protection.
Seeking Equitable Access: Collaborate on potential solutions that guarantee equitable access to justice for all. Join the conversation on breaking down barriers and fostering an environment where diverse voices are heard and represented.
Learning from Muslim Legal Professionals: Discover the unique challenges faced by Muslim legal professionals, from combating bias and stereotypes to addressing misconceptions. Gain valuable insights into their journeys and contributions to a more just legal system.
Networking and Collaboration: Connect with like-minded individuals who are passionate about justice, equality, and inclusion. Expand your network and explore potential collaborations to drive positive change.
An Appeal to Become a Friend of the Centre and support the community work at the British Muslim Heritage Centre.
We run numerous programs; some of them include youth development and leadership, women's empowerment, tackling health inequalities and tackling hate crimes. In recognition of our services, we have been awarded the Queen's Award for voluntary services. His Majesty the King (then His Royal Highness, The Prince of Wales), visited the centre in 2019 to celebrate ten years of BMHC supporting and developing diverse communities.
Join us on 23rd September 2023 at British Muslim Heritage Centre to be part of this empowering dialogue. Together, we can chart a path toward a legal system that truly reflects the principles of justice, equality, and diversity.
Register Today – Limited Spaces
Don't miss this opportunity to empower Muslims in the legal system. See you there!
---
Location:
The British Muslim Heritage Centre
College Road
Whalley Range , M16 8BP United Kingdom
+ Google Map

---
More upcoming events