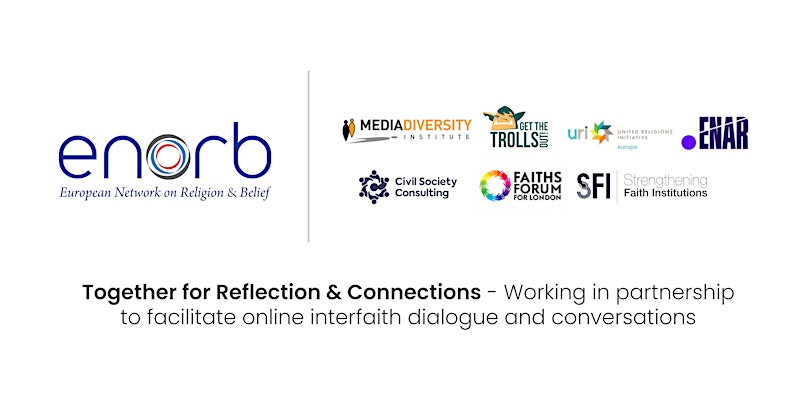 Description:
Dr Farid Hafez & co-authors present their findings from the latest European Islamophobia Report for interfaith dialogue and discussion
ENORB is hosting a further conversation for reflection and connection as part of its programme of interfaith dialogue and continued focus on the rising concerns among faith and civil society organisations about the contemporary development of Islamophobia and resulting anti-Muslim hatred in Europe. We are delighted that Dr Farid Hafez, Dr Kawtar Najib and Zubair Ahmad (all pictured below) – and possibly other co-authors for individual European countries – are joining us to present the latest findings from the European Islamophobia Report.
Dr Farid Hafez – USA – Visiting Professor of International Studies at Williams College; a non-resident senior researcher, Georgetown University's Bridge Initiative at the School of Foreign Service. Founder and co-editor, European Islamophobia Report (2021)
Dr Kawtar Najib is a Visiting Researcher in the School of Geography, Politics and Sociology at Newcastle University. She is a French geographer whose research interests centre on social and urban geographies of inequality and discrimination using both quantitative and qualitative methods. She was the principal researcher of the SAMA project (Spaces of Anti-Muslim Acts) which highlights the impact of Islamophobic discrimination on space and people. She is the author of 'Spatialized Islamophobia' published in 2021 by Routledge. Her research explores more broadly issues of social and spatial justice
Zubair Ahmad studied political science, religious studies, and psychoanalysis at the Goethe University Frankfurt and the Institut d'études politiques in Lyon. After research stays at the University of Johannesburg, Columbia University, and the Cluster of Excellence "Normative Orders," he joined the Berlin Graduate School Muslim Cultures and Societies (Freie Universität Berlin) as a doctoral fellow. His postgraduate studies trace the imperial and colonial histories of the present government of Muslims and Islam. In addition, Ahmad is the project manager (Outreach) at the Young Islam Conference, an anti-racist and empowerment platform in Berlin.
The conversation will be hosted by ENORB Director Mark Ereira-Guyer and facilitated by Manchester-based Sadia Akram, Programme Director of the Forum for Discussion on Israel & Palestine (FODIP) and also a leading consultant at Civil Society Consulting CIC.
The European Network on Religion and Belief is funded by project income, small grants (e.g ENAR's Empowerment & Resilience Scheme), donations, membership fees and a generous core grant from the Open Society Foundations.
---
---
More upcoming events