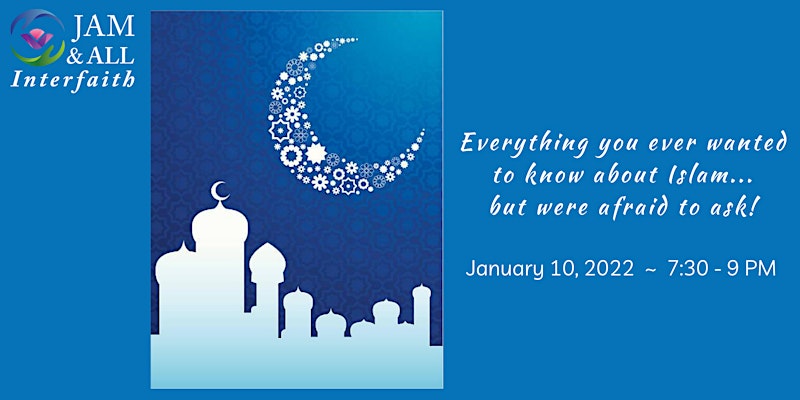 Description:
An online interfaith discussion and roundtable gathering
Are there things you don't understand about Islam? Questions you would like to ask about Islam but don't know who to ask? Maybe you don't know any practicing Muslims…or you feel embarrassed by what you don't understand…or maybe even threatened by what you might learn?
If you heard an inner "Yes" to any of these questions, you will be in the right place at JAM & ALL Interfaith's January online roundtable:
MONDAY JANUARY 10, 2022
7:30 pm Eastern Time on Zoom
We are thrilled to welcome back as our guest presenter Benjamin Bilal – a Muslim African American Imam, singer, songwriter, playwright, author, instructor, and motivational speaker.
For this first Interfaith Roundtable of the new year, we invite you to submit the two top questions that you want to be answered: anything you want to know about Islam! You can do that when you register for the event.
The mission of JAM & ALL Interfaith is to connect people through conversation and education to create peace, harmony, and understanding. We aim to create a safe space to ask hard questions, and Imam Bilal is the person to ask about Islam! Come join the conversation!
Leave fear behind in 2022: open yourself to new learnings and deeper understanding. Uncover truths about our commonalities that may be hiding in plain sight. Be part of our Winter 2022 series of online Interfaith Roundtables, starting with our January 10, 2022 roundtable.
There's a seat at the table waiting for you!
JAM & ALL Interfaith has been bringing people together through conversation and education to create peace, harmony, and understanding for 20 years. Learn more at www.jamandallinterfaith.org.
QUESTIONS? Call Kathy Leonard at 561-289-4621.
---
---
More upcoming events