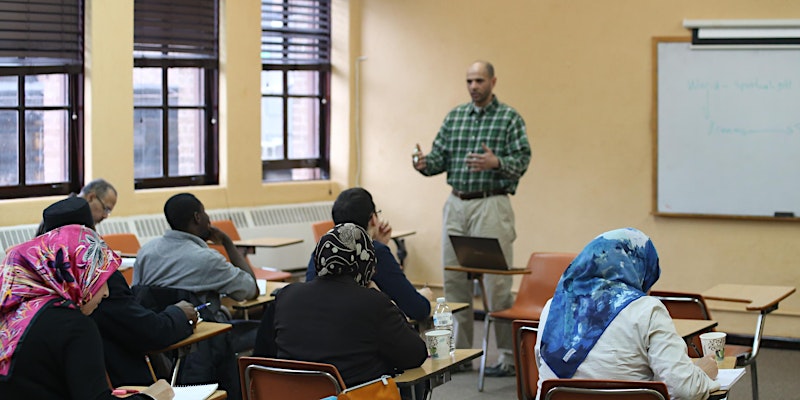 Description:
The organizer of Explore American Islamic College
 AIC is currently an independent and urban-based institution in Chicago that serves a multi-cultural, multi-ethnic, and socio-economically diverse student population. The College was established in 1981 as a private, not-for-profit, four-year institution offering programs leading to the Bachelor of Arts degree in Arabic and Islamic Studies.
In March 1982, the college purchased its present landmark building on Lake Shore Drive, previously the Immaculata Sisters High School, designed in 1922 by Barry Byrne, who had been trained in the studio of Frank Lloyd Wright. It is the first of Byrne's designs in Chicago. Anticipating the construction of Lake Shore Drive, the building was built facing south. The building features slate roofing, classical windows, fine molding, marble flooring, and stunning stained glass. It was inducted into the National Register of Historic Places in 1983.
AIC began its first academic semester in September 1983 as the first Islamic institution of higher education in the United States and may have been an idea ahead of its time, as ultimately efforts to offer degree programs were suspended in the 1990s. In 2010 American Islamic College reopened under a new administration and is rapidly moving forward, having recently received Degree-Granting Authority for both a Bachelors degree and a Masters degree in Islamic Studies. In addition, AIC offers a variety of non-credit and non-degree classes that include: Islamic art (Arabic calligraphy and Ebru), music, and Arabic and Turkish languages. Numerous positive developments continue to enhance the campus. AIC has completely renovated its facility, including the auditorium, classrooms, offices, dormitory, and parking.
In Fall 2014 AIC will welcome its second cohort of BA and MA students. On April 1st, 2014, AIC received Degree-Granting Authority from the Illinois Board of Higher Education. The College is therefore now authorized to confer both Bachelors's and Masters's degrees in Islamic Studies.
---
Location:
American Islamic College
640 W Irving Park Rd
Chicago , Illinois 60613 United States
+ Google Map

---
More upcoming events