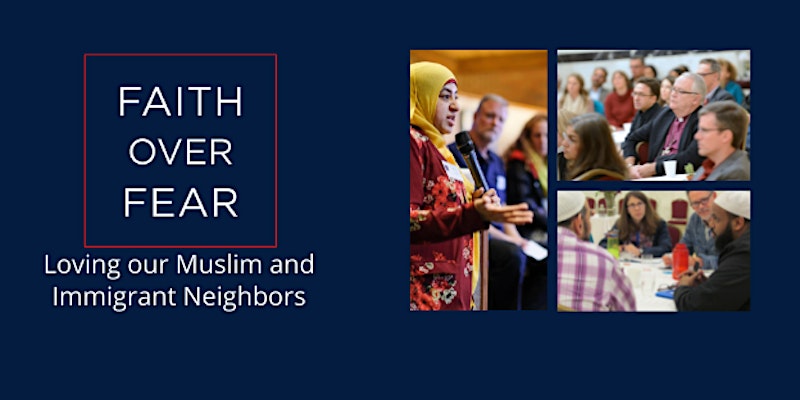 Description:
A training for people of faith to understand and address anti-Muslim and anti-immigrant discrimination in their communities
WHAT: Faith Over Fear – Orange City: Loving our Muslim and Immigrant Neighbors
WHEN: April 1-2, 2022 (see timing & events below)
WHERE: Northwestern College, Dewitt Learning Commons, Vogel Community Room
This training, organized by Shoulder to Shoulder in partnership with the Northwestern College Campus Ministries, Reformed Church in America, Resonate Global Mission, Al Amana Centre, and the Christian Reformed Church's Office of Social Justice is designed for people of faith who wish to consider how our commitment to Christ compels us to show hospitality and welcome the stranger. We'll share up-to-date research, resources, tools, and messaging to be stronger, strategic, and more effective actors in shaping our nation toward a greater vision – where all people, no matter their religious or cultural background, are treated with fairness, dignity, and respect.
Students, local faith leaders, and community members are invited to participate.
*Participants who cannot attend the events in-person may choose the virtual ticket option. During these live zoom sessions, we will unpack the training's content, answer questions and engage in small group discussion.
*The Implementation Team has determined that adults who wish to attend in-person are strongly encouraged to be vaccinated for COVID-19, and in the spirit of hospitality, masks will be provided and required for this event.
CONFERENCE SCHEDULE
Friday, April 1, 2022 4:00 p.m. – 8:00 p.m. :
Understanding and Contextualizing Islamophobia and anti-Muslim bigotry in the United States
Panelists and group activities will provide a broad overview of the historic context, complexity of the issue, key data points, and how it shows up in our communities today. This training will conclude dinner and discussion about next steps.
Saturday, April 2, 2022 9:00 a.m. – 2:00 p.m.:
Messaging and Communicating for Change
Panelists and group discussions will review underlying dynamics of why negative speech resonates, how to avoid reinforcing stereotypes, sharing top-testing messaging recommendations and communications tips.
Strategies for Engagement and Change
We will then explore concrete ideas and tactics for moving people on the issue, and how we can take meaningful action in our communities. Lunch and refreshments included.
*Saturday's event is targeted towards local faith leaders, but all are invited to participate.
---
Location:
Northwestern College, DeWitt Learning Commons, Vogel Community Room
101 7th Street Southwest
Orange City , Iowa 51041 United States
+ Google Map

---
More upcoming events