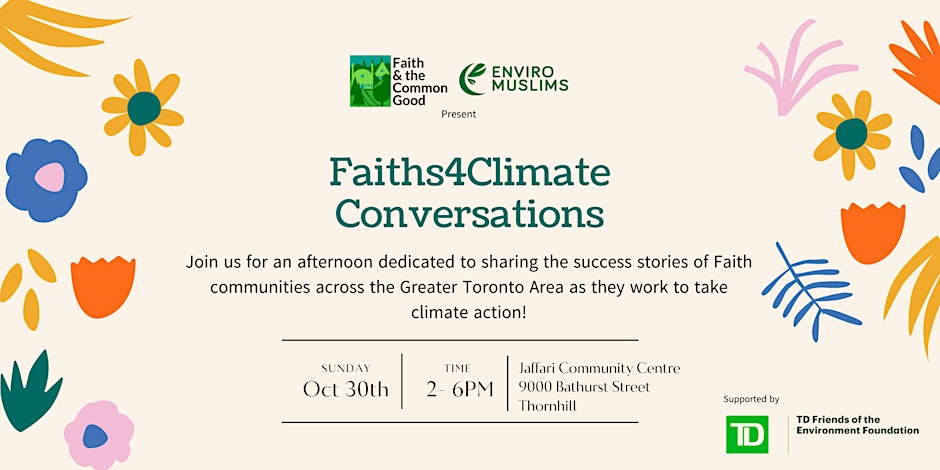 Description:
Join the Faith & the Common Good and EnviroMuslims teams for an afternoon dedicated to sharing the success stories of Faith communities across the Greater Toronto Area as they work to implement sustainability projects within their communities.
Event highlights will include:
Announcements of funding/support available to faith groups
A youth panel highlighting how faiths inspire youth to take climate action
How faith groups can organize places of worship to support the community during climate disasters (flooding, heatwaves, etc.)
A tour of the beautiful Jaffari Community Centre, which has been featured in media outlets thanks to their sustainability work
An exhibit showcasing 'Our Climate, Our Stories', a compilation of stories, poems and essays written by Canadian BIPOC (Black, Indigenous and People of Color) youth on the impacts of climate change on their lives
Exhibitor booths and door prizes
A light dinner and networking will take place following the event (starting at 6pm).
Please note that although this event is free, we do ask that you register.
If you have any questions, please contact [email protected]
Faiths4Climate Conversations is generously supported by TD Friends of the Environment Foundation.
Faiths4Climate Conversations joins many across the world as part of Green Faith International's #Faiths4ClimateJustice movement. To find an event near you, visit: https://greenfaith.controlshift.app/calendars/faiths-4-climate-justice-2022-en
---
Location:
Jaffari Community Centre
9000 Bathurst Street
Vaughan , Ontario L4J 8A7 Canada
+ Google Map

---
More upcoming events