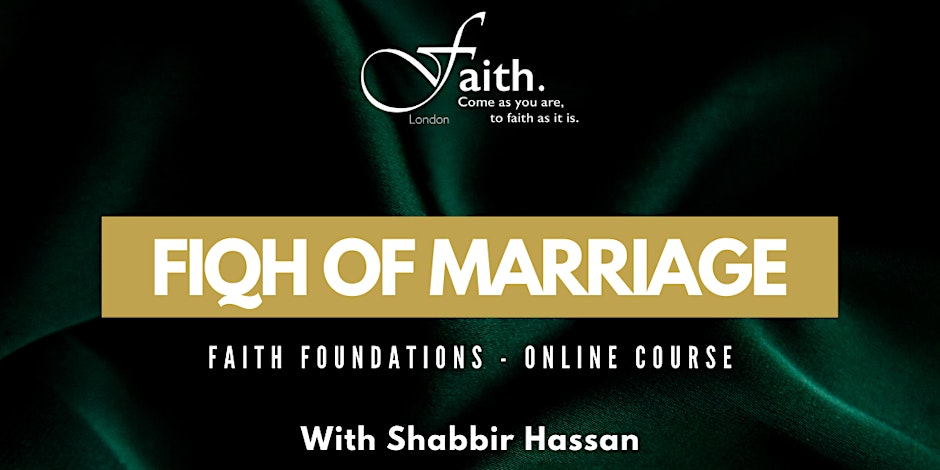 Description:
Study the Fiqh of Marriage online (live & on-demand) with Faith!
Faith Foundations is a unique series of online courses taught in English, focusing on the traditional with a contemporary outlook, open to students of all levels.
Schedule:
Main lessons: Every Monday between 6:30-8:30 PM (starts 30.01.23)
Weekly tutorial: Wednesdays between 6:30-7:30 PM (starts 01.02.23)
Each lesson will last for 2 hours and sessions will be delivered live via Zoom every Monday between 6:30-8:30 PM. There will be a total of 8 sessions, each led by Ustadh Shabbir Hassan. Recordings may be available upon request.
The mandatory tutorial will be held for students on Wednesdays at 6:30 PM for an hour. In the tutorial, we will be going through some of the key content for this module (practical elements of marriage) featuring guest appearances from various teachers/scholars/coaches. There will be a total of 6 tutorials (minimum).
Here is a breakdown of what Fiqh we will be covering:
Definition of Nikah/its wisdoms
The ruling of marriage
What to look for in a spouse
Compatibility in marriage
The mahr (dowry) & how to calculate it in the 21st century
Proposals and rules of engagement
Main conditions of the Nikah
The marriage contract
Marriages that are not permitted
The rights of husband & wife
The walimah
Some of the practical elements we will be covering:
Conflict resolution
Sexual intimacy in Islam
Self-accountability
Finances & planning
Preparing for marriage
Culture vs Islam
What will you gain from this course? This course is ideal for those looking to get married, newlyweds, or those who are simply looking for a deeper understanding of marriage in Islam.
There is a high level of interest for this course so book your spaces as soon as possible and kindly share with others! We look forward to welcoming you soon!
Stay updated on social media @FaithSpaceUK. For any further enquiries send us a DM on instagram.
STUDENT SUPPORT: We try to keep our course fees as affordable as possible, yet we would never want finances to be a barrier to a student's education. Please get in touch via DM on instagram if you would like to enrol on this course and cannot afford the fee.
---
---
More upcoming events