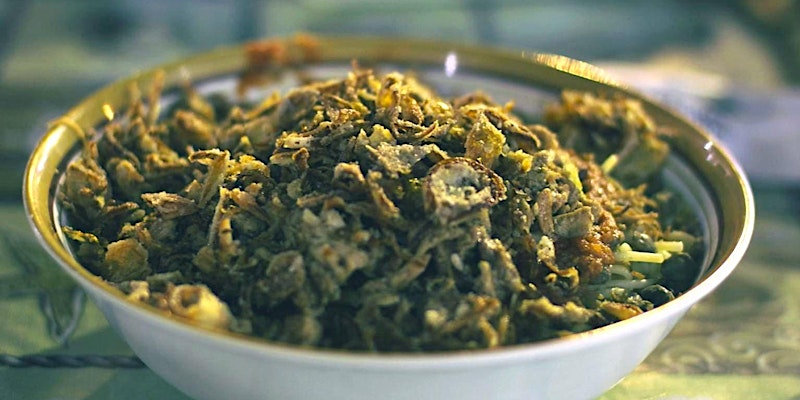 Description:
Celebrate the Muslim world through food!
About this event
The Culinary Literacy Center and Manuscripts of the Muslim World Project are hosting a free culinary class! Please join us in the teaching kitchen while chef Osama Herkal prepares Molokheya—a green leafy soup or topping eaten in many Middle Eastern countries—in the Syrian style. Both in-person (limited) and virtual tickets are available for selection! (Whichever way you attend, don't forget to vote beforehand!)
About the chef:
Osama Herkal is a chef and poet who lives with his wife and three children in Northeast Philadelphia. He is originally from Damascus, Syria. Before resettling to Philadelphia with his family, he spent three years in Egypt, where he worked in cooking, sewing, and advertising. He currently caters, providing his signature Syrian cuisine for gatherings and events. He also works in prepared foods for Whole Foods Market. You can read Osama's poetry and full biography through Swarthmore's Friends, Peace, and Sanctuary website.
About the project:
Manuscripts of the Muslim World Project is a collaborative project with the indigenous Muslim community of Philadelphia. The project is inspired by the Free Library of Philadelphia's diverse collection of handwritten books and paintings produced in the Muslim World. Click here to join this exciting project, featuring community-curation, engaging programs, and free introductory Arabic conversational classes (register for 5 free Sunday morning classes, or Wednesday evening classes, starting in late October) Programs run from now until August 1, 2022.
This program is made possible by: Building Bridges, a program from the Doris Duke Foundation of Islamic Art.
Safety is our top priority. This hybrid event has limited in-person tickets to ensure safe, physical distancing as well as an option to attend virtually via Zoom. According to current guidance from the city of Philadelphia, it is required that all in-person attendees, regardless of vaccination status, mask for this indoor event. Those who are not fully vaccinated should take additional precautions. For more information about our Covid safety precautions, please email [email protected].
---
Location:
Free Library of Philadelphia: Culinary Literacy Center
1901 Vine St
Philadelphia , Pennsylvania 19103 United States
+ Google Map

---
More upcoming events