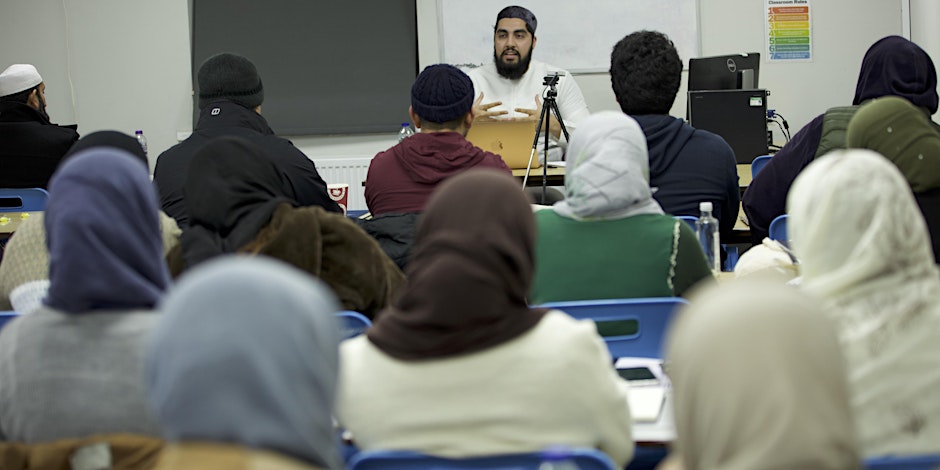 Description:
Foundation diploma in Islamic Studies 2023
The foundation diploma in Islamic Studies has been carefully designed with working professionals, students and busy parents in mind. This 1 year low commitment weekend programme aims to give people the opportunity to study essential Islamic sciences and gain a solid general knowledge of their faith and the necessary legal rulings to be able to live Islam.
NOTE: This course will take place ON CAMPUS ONLY. The same course is available online via British Muslim College. Visit www.buytickets.at/britishmuslimcollege for more info.
Key information
Course title – Foundation diploma in Islamic Studies
Start date – January 2023
Duration – 1 year (4 x 10 week terms)
Days – Saturday
Timings – 6.00pm-8.00pm
Teachers – Shaykh Abdul Rahim Reasat, Shaykh Saad Al Attas, Shaykh Ayaz Shahid, Shaykh Abdul Wajid Hussain
Modules
Term 1
Unit 1: Knowledge & Spirituality
Unit 2: Connecting with the Qur'an (Tafsir)
Term 2
Unit 3: The Law of Purification & prayer (Wudu, Ghusl, Salah)
Unit 4: Contemporary Issues and current affairs
Term 3
Unit 5: Prophetic History (Sirah)
Unit 6: Prophetic Traditions (Hadith)
Term 4
Unit 7: The Law of finance (Zakat, Sadaqah, inheritance)
Unit 8: Creed and Faith (Aqidah)
Campus: Bradford Muslim College, Al-Mustafa Centre, Bradford, BD8 9LN
Accessibility: Open to Males and Females
Primary teaching language: English
Course fees: 4 x termly payments: £100 per term, 1 x annual payment: £300 (one term free)
Term dates
Term 1 – Saturday 14 January – Saturday 18 March (10 weeks)
5 weeks break for Ramadan and Eid Ul Fitr
Term 2 – Saturday 29 April – Saturday 8 July (10 weeks)
1-week break for Eid ul Adha
Term 3 – Saturday 15 July – Saturday 14 October (10 weeks)
4-week break during August for Summer Holidays
Term 4 – Saturday 21 October – Saturday 23 December (10 weeks)
Detailed syllabus
View the full course syllabus here: https://bradfordmuslimcollege.org.uk/wp-content/uploads/2015/10/BMC_FD_Full_syllabus_2018.pdf
Further information
For more information email [email protected]
Refund policy: Refunds can be made within 14 days of purchase. No refunds can be made for any registrations after 1st December 2022.
---
Location:
Bradford Muslim College
249 Kensington Street
Bradford , BD8 9LN United Kingdom
+ Google Map

---
More upcoming events