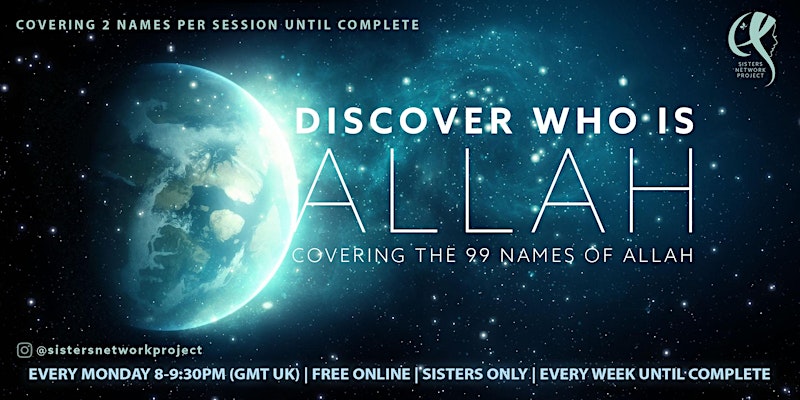 Description:
Find out about the Creator of the Heavens and the Earth. Covering the Names and Attributes of Allah to know Him better!
Only need to sign up once to any date, Zoom details remain the same for all sessions. You don't need to select every date individually
SISTERS ONLY | FREE ONLINE ZOOM CLASSES | EVERY MONDAY | 8-9PM (GMT UK) | 2 NAMES PER SESSION |
Sisters' Network Project (SNP) presents a unique series of lectures covering the names and attributes of Allah. Deepen your understanding about the Creator of the heavens and the earth and get closer to Him with understanding. Classes will be held over zoom every Monday 8-9:30pm, covering 2 names of Allah every session.
The first two sessions can be heard on our website sistersnetworkproject.com
If you would like the recordings of all the sessions as they finish just in case you can't make it, why not donate towards the dawah work by purchasing the recording ticket (you just need to do it once and you will be emailed the recording as they are completed)?
*All the sessions will be available at the end of the course for the public for FREE isnahAllah.
---
---
More upcoming events