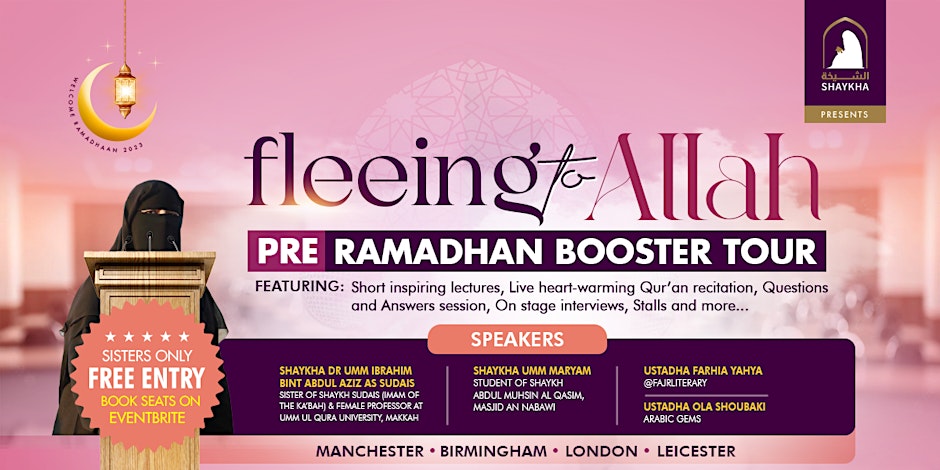 Description:
SHAYKHA presents:
FLEEING TO ALLAH! PRE RAMADHAAN SISTERS CONFERENCE
AN EXCLUSIVE SISTERS ONLY 4 CITY PRE RAMADHAAN BOOSTER CONFERENCE TOUR WITH THE SISTER OF SHAYKH SUDAIS (IMAM OF THE KA'BAH) & OTHERS!!!
SHAYKHA is proud to announce its first 4 city exclusive inspirational Emaan boosting sisters conference tour across 4 cities on ways to Flee to Allah and prepare for Ramadhaan the most sacred, most virtues and greatest month of the year. This exciting pre Ramadhaan booster conference will be addressed by the honourable esteemed Shaykha Doctoora Umm Ibrahim Bint Abdul Aziz As Sudais, the sister of Shaykh Abdur Rahman As Sudais (the Imam of the Ka'bah) along with other high esteemed female Shaykhas and Da'iyaat.
SCHOLARS & MOTIVATIONAL SPEAKERS: (confirmed and attending in person)
* H.E Shaykha Doctoora Umm Ibrahim bint Abdul Aziz as-Sudais
(sister to the Imam of the Ka'bah & female Professor at Umm ul Qura University, Makkah)
* Shaykha Umm Maryam (Student of Shaykh Abdul Muhsin Al Qasim, Imam of Masjid An Nabawi)
* Ustadha Farhia Yahya (Motivational speaker & Author @fajrlitery)
* Ustadha Ola Shoubaki (Motivational speaker, teacher & founder of Arabic Gems)
FEATURING:
– Short inspiring lectures
– Live heart-warming Qur'an recitation
– Questions & Answers session
– Fundraising for charity
– On stage interviews
– Stalls and more…
CITIES, DATES & VENUES:
MANCHESTER
Thursday 9th March 2023 6pm @ The Sheridan Suite, 371 Oldham Road, Miles Platting, Manchester M40 8RR
BIRMINGHAM
Friday 10th March 2023 6pm @ Grand Occasions Hall, 226 Solihull Road, Birmingham B11 3AF
LONDON
Saturday 11th March 2023 10.30am @ The Atrium, 124-126 Cheshire Street, London E2 6EJ
LEICESTER
Saturday 11th March 2023 6pm @ The Empire Hall, 1 Foundry Lane, Leicester LE1 3WU
*Free admission- All sisters welcome.
*Booking and registration required on Eventbrite.
*We kindly request no boys above 6 years of age.
*No external recording permitted.
This tour has been organised by SHAYKHA a project of Al Haramain Institute UK, supported by Ilm Forum & The Qur'an Charity in aid of AFH Action for Humanity
For enquires: [email protected] or 02039165944
See the full poster here: www.alharamaininstitute.co.uk/fleeingtoAllah.jpg
---
Location:
The Sheridan
371 Oldham Road
Miles Platting , M40 8RR United Kingdom
+ Google Map

---
More upcoming events