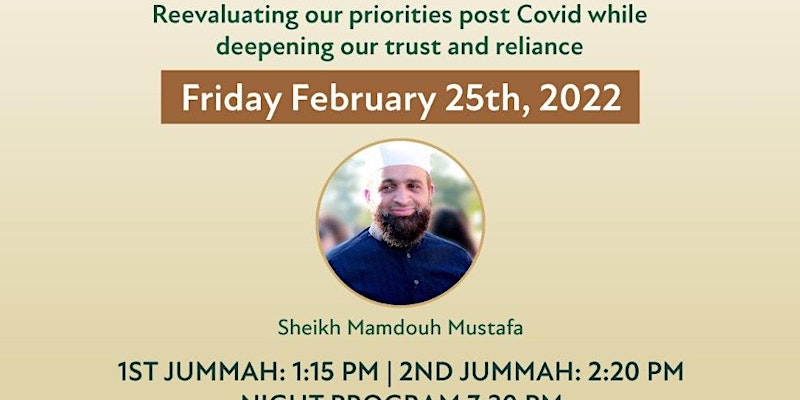 Description:
Alhamduillah we are blessed to have Sh. Mamdouh at ICGA for Friday Jummah, Night Program, and Fajr on Feb 25th weekend! Please register.
The Islamic Center of Greater Austin is pleased to bring back Sheikh Mamdouh Mustafa for Jummah Khutbah and night Program:
1st Jummah Khutbah: 1:15PM
2nd Jummah Khutbah: 2:20PM
Night Program: 7:30PM
Saturday: Fajr Khateria with Breakfast!
Babysitting Available & Food
Please Register: Austinmosque.eventbrite.com
Routes and Roots: Reevaluating our priorities post Covid while deepening our trust and reliance
About Sh. Mamdouh:
Shaikh Mamdouh, earned an Ijazah (certification of authentic multiple Quraan recitations) in ten different Qiraat (different ways of Quraan recitations). Sh. Mamdouh has 25 years of experience as an Imam, Islamic Education teacher, and mentor.
Shaikh Mamdouh, is also the
founder and CEO of Roots & Sprouts, an educational consulting firm in Houston Texas.
---
Location:
Islamic Center of Greater Austin
5110 Manor Road
Austin , Texas 78723 United States
+ Google Map

---
More upcoming events