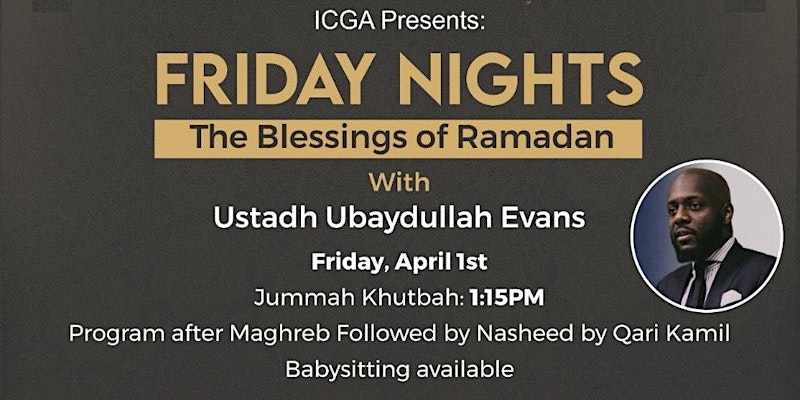 Description:
Join us as we have Ustadh Ubaydullah come all the way from Chicago, a graduate from Al-Azhar University on the blessings of Ramadan
Alhamduillah, we are blessed to have Ustadh Ubaydullah Evans join us for a Jummah Khutbah and community night Program followed by Nasheed by Qari Kamil, who is our reciter for this years Taraweeh.
Jummah Khutbah: 1:15PM
Night Program After Maghreb , and followed by short Nasheeds by Qari Kamil to start Ramadan.
Free Babysitting Available:
Ustadh Ubaydullah Evans is ALIM's first Scholar-in-Residence. He converted to Islam while in high school. Upon conversion, Ustadh Ubaydullah began studying some of the foundational books of Islam under the private tutelage of local scholars while simultaneously pursuing a degree in journalism from Columbia.
Since then he has studied at Chicagoland's Institute of Islamic Education (IIE), in Tarim, Yemen, and Al-Azhar University in Cairo, Egypt, where he is the first African-American to graduate from its Shari'a program.
Ustadh Ubaydullah also instructs with the Ta'leef Collective and the Inner-City Muslim Action Network (IMAN) at times.
As the ALIM Scholar-in-Residence, Ustadh Ubaydullah is a core instructor at the ALIM Summer Program. He teaches History of Islamic Law, Shama'il, and Aphorisims of Ibn Ata'illah along with other courses.
---
Location:
Islamic Center of Greater Austin
5110 Manor Road
Austin , Texas 78723 United States
+ Google Map

---
More upcoming events