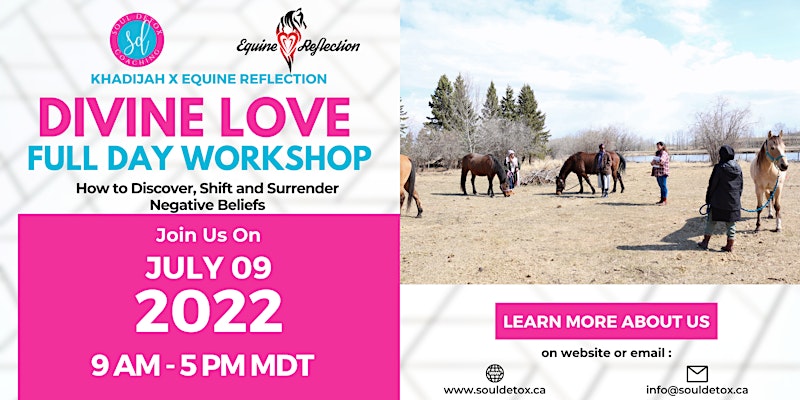 Description:
Divine Love Full Day Workshop with Equine Reflection & Khadijah Von Grat
Do you feel the call to discover your purpose?
Discover the unique language of your soul?
Do you like the idea of prayer, meditation, and dhikr as a spiritual practice?
Do you love horses and want to see Allah's reflection through connecting with them?
Our Full Day Divine Love Workshop is perfect for anyone who feels called to discover their purpose and is ready to connect to Divine love. Through Islamic teachings, meditation, and gestalt therapy you will learn how to tune into your authentic voice and connect to Allah through dua, dhikr, and Islamic teachings – all for the sake of Allah.
This workshop is an invitation to embrace Divine love from Allah, ignite your unique soul purpose, and find comfort, safety, and trust in Allah. It is time to turn inward and find your unique relationship with Allah in the Holy Day of Dhul Hijjah.
Join us in Edmonton, AB, Canada for a jam-packed morning at Equine Reflection with Chantel and her horse team where we will be connecting with Divine beings in group sessions. You will have the opportunity to discover what is blocking you from being close with Allah, change old belief patterns and surrender to the truth of what Allah is asking from you for the upcoming year.
We begin at 9 am and leave the horses around noon. We will then head to the park for food and the rest of the workshop. You can feel free to hang out until 5pm MDT or leave after the teaching around 3:30 pm MDT
There are only 10 spots available for the July 9, 2022. Please e-transfer your full ticket price $197 to [email protected] or visit our website www.souldetox.ca for more details.
"The desire to know your own soul will end all other desires." – Rumi
**PLEASE NOTE IF THIS FULL-DAY WORKSHOP IS FULL WE WILL SCHEDULE ANOTHER ONE**
---
Location:
Equine Reflection | Chantel Schmidt
Township Road 494
Kingman , Alberta T0B 2M0 Canada
+ Google Map

---
More upcoming events