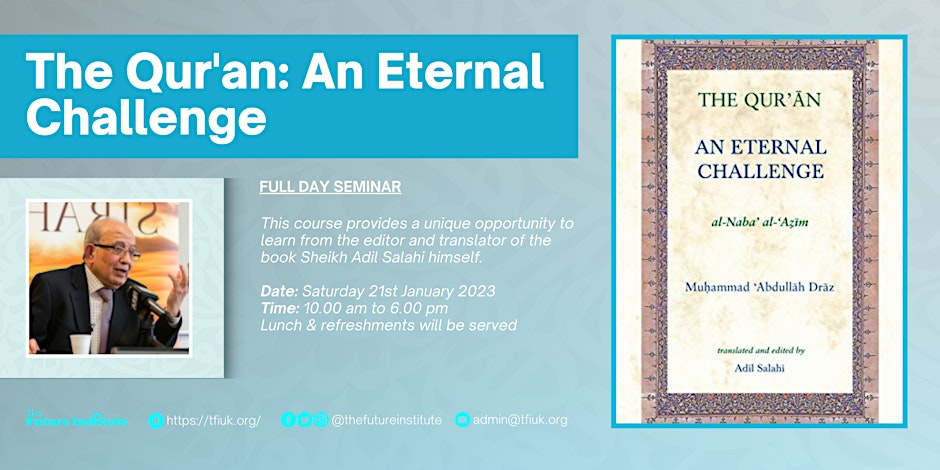 Description:
What makes the Qur'an so unique?
Over the centuries, countless studies sought to answer this question. Some scholars came up with perceptive ideas, and others gave valid theories. Using the Qur'an, An Naba' Al'Azim proves irrefutably that none other than God Almighty is it's author.
With this in mind, the Future Institute presents a day workshop on Sheikh Muhammad Abdullah Darz's unique book, 'An Naba' Al 'Azim'.
Translated and edited by Sheikh Adil Salahi as 'The Qur'an An Eternal Challenge'.
This course provides a unique opportunity to learn from the editor and translator of the book Sheikh Adil Salahi himself, who has kindly agreed to share his wealth of insight and experience.
The sessions are designed for those involved in daw'ah, activism, and have the passion to engage in thought provoking discussions, virtuous companionship, and self development.
Typically the course runs for a full week. On this occasion, it has been condensed into a day for the benefit of those who are not able to commit.
Date: Saturday 21st January 2023
Time: 10.00 am to 6.00 pm
Lunch & refreshment will be served
Limited to 25 spaces | First come first serve
---
Location:
The London Muslim Centre
46 Whitechapel Rd
London , E1 1JX United Kingdom
+ Google Map

---
More upcoming events