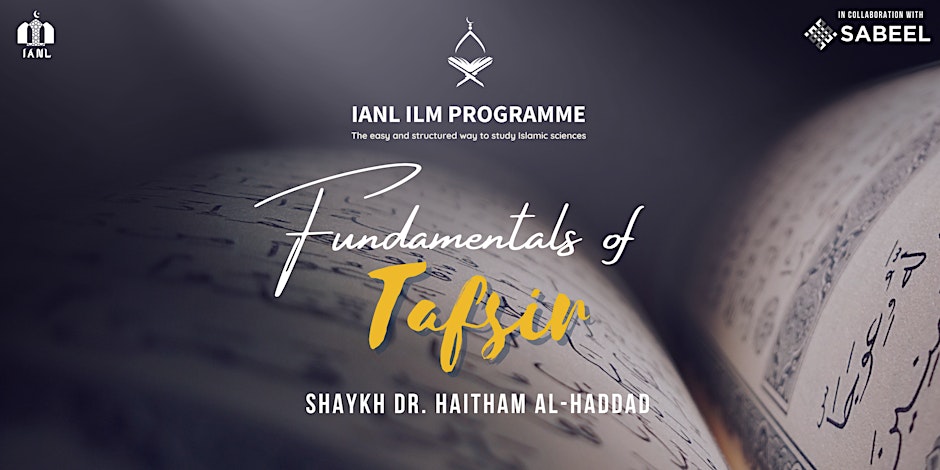 Description:
The Ilm Programme is a new initiative of the Islamic Association of North London (IANL). The Programme will cover Islamic basics and essentials across the broad range of all Islamic sciences such as theology, law, Quran, hadith and history, whilst also facilitating the study of more advanced levels of knowledge via a trusted source.
By the end of the Ilm Programme students should have a firm grounding in the knowledge of Islam, its development, fundamentals, nuances and how to apply it in the modern world. This will enable them to a) come closer to Allah via seeking knowledge, and b) be encouraged to apply what it means to be a Muslim in their communities.
This Programme is open to all brothers and sisters of all backgrounds regardless of age or previous Islamic knowledge.
Fundamentals of Tafsir Course Overview
The course is suitable for people of all levels as we will cover the basics whilst also addressing more advanced topics so we all develop in our journey of seeking knowledge.
The course will cover the following key points:
What is Tafsir and Introduction to Usul at-Tafsir
What are the sources of Tafsir
Comparison of Tafsir to other related terms
Divergent opinions in Tafsir
What is Tadabbur
What is required for Tadabbur
Application of Tadabbur
Teacher Biography
The course will be taught by Shaykh Dr. Haitham al-Haddad.
Shaykh Dr. Haitham al-Haddad is a jurist and serves as a judge for the Islamic Council of Europe. He has studied the Islamic sciences for over 20 years under the tutelage of renowned scholars such as the late Grand Mufti of Saudi Arabia as well as the retired Head of the Kingdom's Higher Judiciary Council.
He specialises in many of the Islamic sciences and submitted his doctoral thesis on Islamic jurisprudence concerning Muslim minorities. Shaykh Haitham is highly respected having specialised knowledge in the field of fiqh, usul al-fiqh, maqasid al-shari'ah, ulum al-Qur'an, tafsir, aqidah, and fiqh al-hadith. He provides complex theories which address the role of Islamic jurisprudence within a western environment whilst also critically re-analysing the approach of Islamic jurists in forming legal rulings (ifta') within a western socio-political context.
He has many well known students most of whom are active in dawah and teaching in the West. The shaykh is an Islamic jurist (faqih) and as such is qualified to deliver verdicts as a judge under Islamic law, a role he undertakes at the Islamic Council of Europe as Islamic judge and treasurer. Dr Haitham al-Haddad also sits on various the boards of advisors for Islamic organisations, mainly in the United Kingdom but also around the world.
Course Information
The course will take place on the first floor of IANL for brothers and sisters.
Brothers and sisters will have full access to the teacher. Interaction and participation is encouraged to make sure we get the most out of this course.
Light refreshments will be provided and there will be regular breaks including for lunch and prayers.
Attendees are encouraged to be prompt in their arrival to sessions due to the tight schedule. Registration opens at 10am, where attendees can sign in and collect their binders. The first full session will begin at 10:30am.
The course fee is non-refundable and will be put towards the running of IANL.
If you are unable to finance the course fee or for any other questions or special requests email [email protected].
---
Location:
Finchley Mosque
685 High Road
London , N12 0DA United Kingdom
+ Google Map

---
More upcoming events