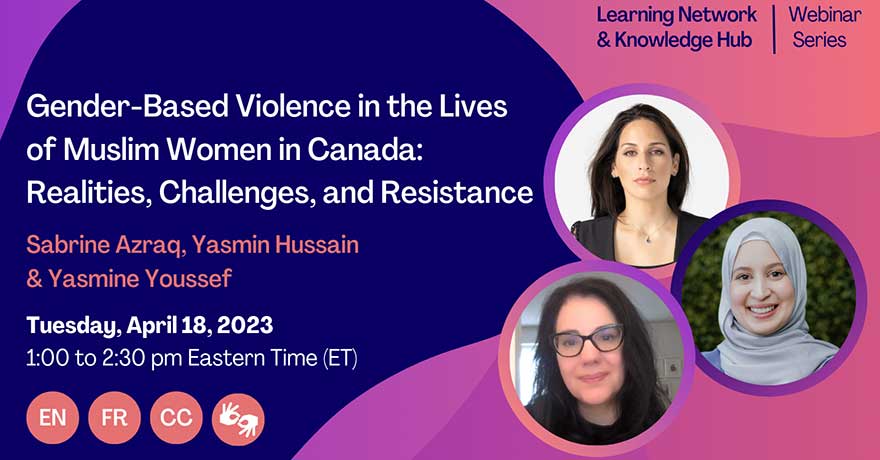 Description:
Gender-Based Violence in the Lives of Muslim Women in Canada: Realities, Challenges, and Resistance
Presented by: Sabrine Azraq, Yasmin Hussain, and Yasmine Youssef
Date|Time: Tuesday, April 18, 2023 | 1:00 to 2:30 pm Eastern Time (ET)
We offer our Webinars in both official languages: English and French. This Webinar will run in English with simultaneous French and American Sign Language (ASL) interpretation. A Webinar recording in English and French will be made available after the Webinar. Register for the Webinar and receive an email when the recording is posted!
In this Webinar, expert panelists discuss experiences of gender-based violence (GBV) in the lives of Muslim women across Canada. Panelists explore the intersections of GBV and Islamophobia, barriers to accessing culturally-informed supports and services, and impacts on the health and wellbeing of survivors. Lastly, panelists share the many ways that Muslim women stand up and resist acts of violence and oppression in their everyday lives.
Learning Objectives
After participating in this Webinar, participants will better be able to:
Understand the experiences of gender-based violence encountered by Muslim women in Canada
Acknowledge barriers such as Islamophobia to seeking supports and services
Recognize that Muslim women and girls are actively engaged in resistance
Sabrine Azraq is the National Legal Services Coordinator for the first-ever legal services coordination program geared specifically to Muslim women in Canada. The Legal Services Coordination Program is spearheaded by the Canadian Council of Muslim Women (CCMW) and funded by the Law Foundation of Ontario.
Yasmin Hussain is the Manager of Public Education and Community Programs at the Muslim Resource Centre for Social Support and Integration (MRCSSI). In her role, Yasmin leads the development and implementation of creative community education strategies and programs that address gender-based violence, promote healthy relationships, and foster healing for survivors.
Yasmine Youssef is the Program Director of Nisa Homes, a national group of transitional shelters for Muslim women and children in Canada. She has been passionate about helping women experiencing and fleeing abuse since high school. She has a decade of experience in the social services field, including working in mental health and union advocacy.
---
---
More upcoming events