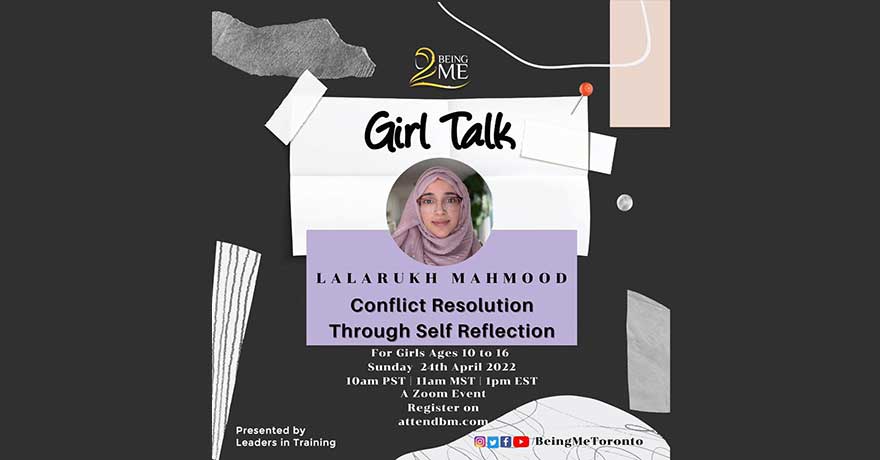 Description:
Being ME Canada presents:
Girl Talk Monthly Session
⭐️ Topic: Conflict Resolution through Self Reflection
🗓 Date: April 24, 2022
⏰ Time: 1 pm EST/ 11 am MST
💫Don't you think life is too short to keep track of everyone else's mistake?
💫So let's reflect on our own mistakes first.
💫If we don't own our mistakes, how will we correct them?
About Girl Talk:
Empowering Muslim Girls with sound knowledge of the Deen, character development skills, and core competencies to become Leaders of self and others within the community.
About the Presenter:
Lalarukh Mahmood, Wellness Coach
Sr. Lalarukh is an instructor for the Young Da'iyah program at i3 institute. She has been a student since 2017 and is currently doing the Advanced Islamic Studies program. She has been actively involved with a range of projects relating to faith crisis and women's support. Lalarukh has a Bachelor's of Science degree in Psychology from York University, is an IAWP certified Holistic Wellness Coach and is currently working as a Health & Wellness Coach with a digital health company in Toronto.
Lalarukh is passionate about supporting young Muslimahs reach their full potential so they can serve Allah (SWT) to the best of their ability. She loves mentoring younger girls in identifying their strengths and talents and using them to serve their ummah, deen and ultimately their Creator.
*Visit attendbm.com to register for this private zoom session! *
Sign Up Today
Limit spots
For ages 10 to 16 years old
---
---
More upcoming events