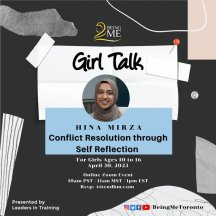 Description:
Being ME Canada presents:
Girl Talk Monthly Session
⭐️ Topic: *Conflict Resolution through Self Reflection*
🗓 Date: April 30, 2023
⏰ Time: 1 pm EST/ 11 am MST
Speaker: Hina Mirza
Description:
💫Ramadan is the month of forgiveness so why do we still hold grudges?
💫How do we own our mistakes while staying away from guilt traps?
💫 How can we be mindful of not repeating the same mistakes?
*About Girl Talk:*
Empowering Muslim Girls with sound knowledge of the Deen, character development skills, and core competencies to become Leaders of self and others within the community.
*About the Presenter:*
Sr Hina Mirza has over 20 years of experience as a writer, public speaker and mental health educator. She has a masters in Counselling Psychology with a focus on Islamic counselling and is a Registered Psychotherapist in Ontario.
She specializes in implementing a positive model for healthy families with emphasis on relationship management and supports individuals and couples who are struggling through emotional, behavioural or relationship challenges.
As a therapist, her aim is to create a warm and supportive environment where clients are enabled to seek positive change and growth, by framing treatment planning with cultural sensitivity, religious values and an awareness of individual needs.
*Visit attendbm.com to register for this private zoom session! *
*Sign Up Today*
*Limit spots*
For ages 10 to 16 years old
---
---
More upcoming events