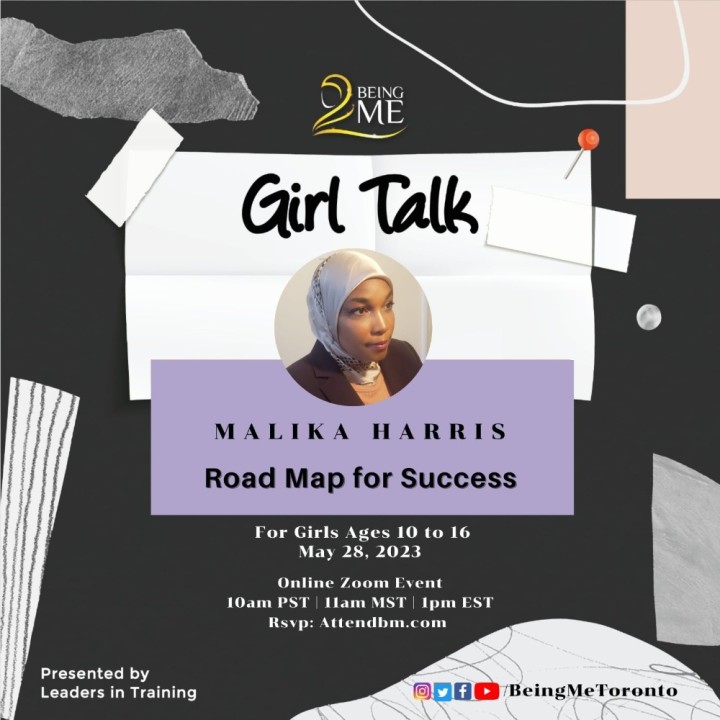 Description:
Being ME Canada presents:
Girl Talk Monthly Session
*⭐ Road Map for Success*
*🎙Speaker*: Malika Harris
*🗓️ Date*: May 28, 2023
*⏱Time*: 1 pm EST / 11 am MST
*Program Description:*
💫How do we maintain the integrity of our deen without limiting our career choices?
💫How can we get to know our own true strengths, become pioneers and be agile?
💫Instead of trying to fit into a preexisting box, how can we create our own space?
💫Be the shepherd not the sheep!
*About Girl Talk:*
Empowering Muslim Girls with sound knowledge of the deen, character development skills, and core competencies to become leaders of the self and others within the community.
*Speaker's Bio:*
Malika Harris has been an educator for the past 15 years. She has worked as a highschool teacher, guidance counselor and is currently a college admissions advisor.
She has two degrees one in Psychology and the other in Adult Education. She is a business owner and mother of 3 university graduates.
Malika has taught in Islamic schools for several years and is passionate about helping Muslim youth plan for success in this life and the next. Please reach out to her if you have middle school and highschool children who need help to create academic plans for their future.
*Visit attendbm.com to register for this private zoom session!*
*Sign up today*
For ages 10 to 16 years old
---
---
More upcoming events