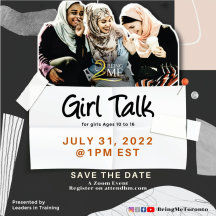 Description:
Being ME Canada presents:
Girl Talk Monthly Session
⭐️ Topic: Seeking Knowledge
🗓 Date: July 31, 2022
Program Description:
💫What was Allah SWT's purpose behind the first word to be revealed – Iqra?
💫Why did Allah SWT choose to preserve Quran as a sign instead or the split moon?
💫Is seeking knowledge about the destination or about the never-ending journey?
About Girl Talk:
Empower Muslim Girls with sound knowledge of the Deen, character development skills, and core competencies to become Leaders of self and others within the community.
Visit attendbm.com to register for this private zoom session!
Sign Up Today
Limit spots
For ages 10 to 16 years old
---
---
More upcoming events