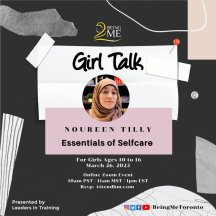 Description:
Being ME Canada presents:
Girl Talk Monthly Session
Essentials of Selfcare
🎙Speaker: Sr. Noureen Tilly
📆Date: March 26, 2023
⏱Time: 1 pm EST / 11 am MST / 10 am PST
Program Description:
💫How can we worship Allah SWT during menstruation?
💫How do we take full advantage of Ramadan without missing out on the barakah?
💫What is forbidden and what is allowed?
About Girl Talk:
Empowering Muslim Girls with sound knowledge of the Deen, character development skills, and core competencies to become Leaders of self and others within the community.
Speaker Bio
Noureen Tilly Khan was born and raised in Calgary, Alberta. She is an Islamic educator, Chaplain, speaker, and a certified life and health coach.
At present, she is the Academic Director of the Noor Quran Academy founded by her in 2007, an instructor with the Women & Faith organization and a chaplain at the University of Calgary.
She obtained her degree in higher Arabic and Islamic studies from The Al-MADANIA Islamic Seminary in Buffalo, New York where she graduated with distinction in 2001.
She continues to serve various communities across Canada and has a keen interest in building community, inspiring positive change and empowering people of all ages.
Noureen enjoys skiing, swimming, biking, horseback riding and spending quality time with her family.
Visit attendbm.com to register for this private zoom session!
Sign Up Today
Limited spots
For ages 10 to 16 years old
---
---
More upcoming events