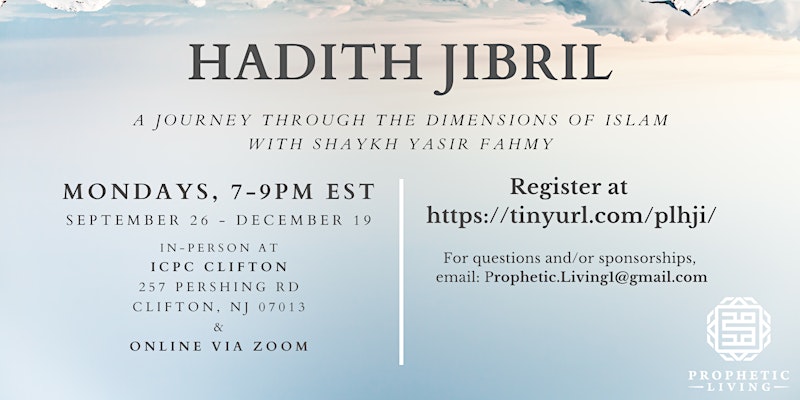 Description:
Explore Islamic manners, and the three dimensions of Islam, iman, and ihsan through a study of Hadith Jibril with Shaykh Yasir Fahmy
Assalamu 'alaikum wa rahmatullahi wa barakatuh,
Join us on Mondays at 7:00 – 9:00PM, starting September 26th, 2022 for Prophetic Living's fall course with Shaykh Yasir Fahmy on Hadith Jibril at ICPC – Clifton and online. By exploring this hadith, we will establish a deeper connection with the Sacred text and find ways to apply it in our own lives, insha'Allah.
This course will engage in a critical reading and analysis of Hadith Jibril. Also known as Umm Al-Hadith (or the mother of Prophetic narrations), this narration gathers the essential acts and practices that are to be performed, internally and externally, in the life of a Muslim. Through analysis of the context and language of this hadith (Prophetic tradition), we will develop an understanding of adab (Islamic manners or etiquette) as well as the fundamental building blocks of Islam: islam (the physical surrender of the body), iman (internal truth), and ihsan (excellence and beauty). From these building blocks, we will develop a framework for understanding the corresponding three core Islamic sciences: fiqh (Islamic jurisprudence), 'aqida (creed/theology), and tasawwuf (spiritual purification).
We welcome you to sponsor students in need of financial aid and to support Prophetic Living in the Eventbrite ticket. Please email us at [email protected] if you need financial aid or have any further questions.
Mondays at 7:00pm – 9:00PM on Zoom and in-person at ICPC Clifton, starting September 26th until December 19th. There will be a break on November 21st to accommodate the Prophetic Living Umrah trip.
ICPC – Clifton 257 Pershing Rd. Clifton, NJ 07013
(Islamic Center of Passaic County)
*IMPORTANT NOTES*
*Children 10 years old and under can attend for free.
*Families pay the discounted $80 price for their first child's registration between 11 to 18 years old. $40 for their second child. Third and any additional children between 11-18 years old are free.
*If you register for the course during a live session OR up to an hour before, you are NOT guaranteed to receive the live link for that day. However, you will receive the recording when it is sent out to all registrants.
One registration covers all sessions.
Registrants will be able to attend online.
Recordings for the classes will be available to registrants.
*If you're in need of financial aid, please email [email protected] with the subject "Fall 2022 Financial Aid" and we'll get back to you inshaAllah!
*Course Dates*
September 26, 2022
October 3, 2022
October 10, 2022
October 17, 2022
October 31, 2022
November 7, 2022
November 14, 2022
BREAK ON November 21, 2022
November 28, 2022
December 5, 2022
December 12, 2022
December 19, 2022
---
Location:
Islamic Center of Passaic County (Clifton)
257 Pershing Road
Clifton , New Jersey 07013 United States
+ Google Map

---
More upcoming events