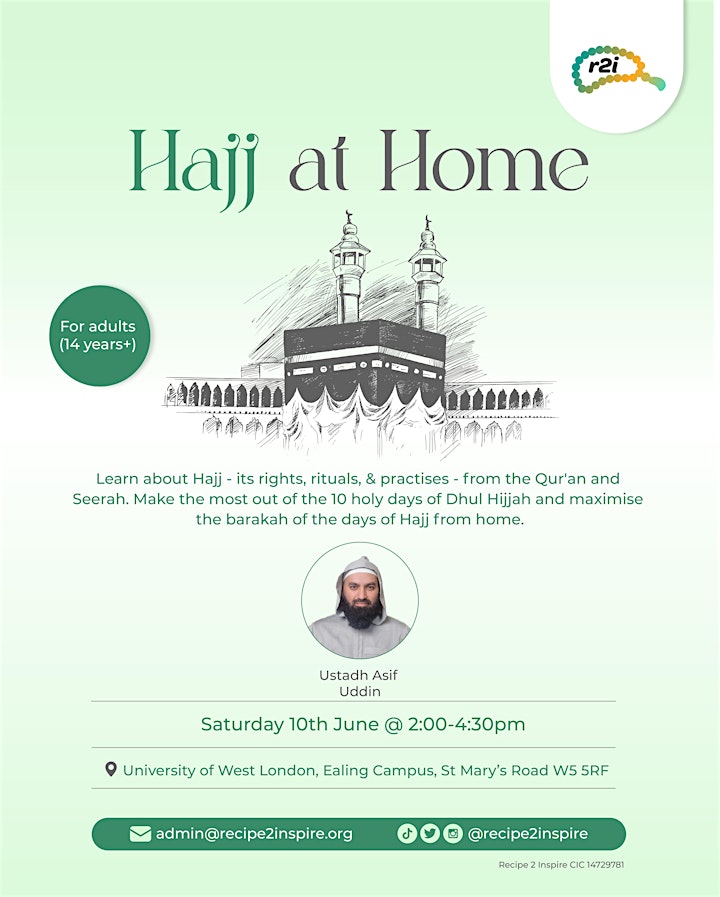 Description:
Join Ustadh Asif Uddin to learn about the 5th pillar of Islam, Hajj – its rights, rituals, and practises – through the eyes of the Qur'an and Seerah. Make the most out of the 10 holy days mentioned in the Qur'an and how to maximise the barakah of the days of Hajj whilst being at home.
Ustadh Asif Uddin was born and raised in the UK. He is a keen Student of Knowledge and has studied the Islamic sciences in Mauritania, Egypt and Qatar. He previously was Editor-in-Chief at Islam21c.com. He has a show called Chapter by Chapter on Eman channel, discussing each Surah of the Qur'an. He completed an MA in Islamic Studies at SOAS and is undertaking his PhD on the Qur'an at Swansea University, whilst also working at MRDF.
~Timings~
Registration 2pm
Class finishes at 4:30pm
Course materials will be provided & light refreshments will be served during the break.
~Location~
Our course will be taking place at the University of West London, Ealing campus, located a short walk from Ealing Broadway shopping centre. This venue offers disability access.
Transport links: Ealing Broadway station (central, district & Elizabeth lines) & South Ealing tube station
Car parks: Ealing Broadway & South Ealing carparks. Bay parking is available on nearby Warwick Road.
~About R2I~
Starting with the name of Allah, the Most Gracious and Most Merciful, Recipe2Inspire aims to build spirituality, a sense of community and a closeness to Islam, regardless of where you in your faith journey.
We aim to deliver professional and relevant programmes, events and content for the everyday Muslim, who present in so many ways, but identify as one Ummah.
We recognise that Muslims come in all shapes, colours and spectrums of understanding and therefore, we aim to be as inclusive as possible.
For more info contact: [email protected] or follow us on Twitter, Instagram & Tiktok: @recipe2inspire
---
Location:
University of West London
Saint Mary's Road
London , W5 5RF United Kingdom
+ Google Map

---
More upcoming events