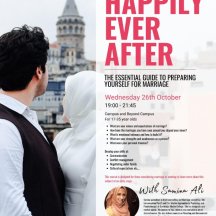 Description:
Happily Ever After: The Essential Guide to Preparing Yourself for Marriage by Samina Ali
Salaams all!
For those of you who missed Samina Ali's fantastic Islamic marriage preparation course, we now have the recording available. This is a bespoke course that is incredibly useful for those of you who are looking to get married in the future, or for anyone who is interested; it is beneficial for our whole community. It is also a prerequisite to applying to the Campus Matrimonial Service. We hope you enjoy and benefit from it InshaAllah!
– The Campus Coordinators.
ISB / ISB CAMPUS MEMBERS – FREE (+ those who have previously paid for the course)
NON-MEMBERS – £5
Once you have purchased a ticket, you will be emailed the accompanying workbook and the link to the recording.
ISB Campus: "British Muslim youth exploring faith in a contemporary, friendly and spiritual way"
What are your values and expectations of marriage?
How have the marriages you have seen around you shaped your views?
What is emotional intimacy and how to build it?
What are your strengths and weaknesses as a person?
What were your personal traumas?
Develop your skills at:
Communication
Conflict management
Negotiating wider family
Managing finances, cultural expectations etc….
With Samina Ali
Samina specialises in Adult counselling and Marriage counselling. She has completed Part 1 and 2 in 'Islamic Approaches to Psychology and Psychotherapy' at Cambridge Muslim College. She has designed a pre-marital course 'My Journey to You', which is now available as an on-demand course. She also delivers courses on Parenting and Bereavement amongst many other subjects.
—————————————————————————————————————————–
Please do join as an ISB (27+ years) or an ISB Campus Member (17-26 years) in order to avail yourself of our many activities as well as discounts at ISB and ISB Campus events.
if you are unsure whether you are a member or not, please email [email protected]
TO JOIN US, please follow the this link and select 'Campus' or 'ISB'
@isbcampus  ¦   isb.org.uk  ¦  [email protected]
---
---
More upcoming events