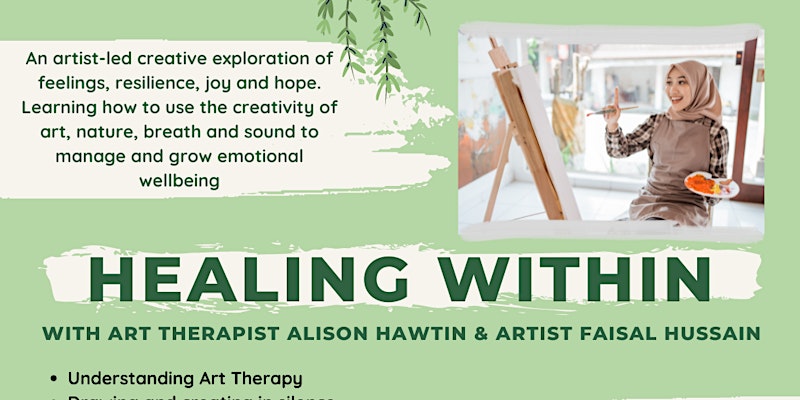 Description:
A creative exploration of feelings, resilience, joy, and hope. Learning how to use the creativity of art, nature, breath, and sound
Healing Within
With Alison Hawtin & Faisal Hussain
An artist-led creative exploration of feelings, resilience, joy, and hope. Learning how to use the creativity of art, nature, breath, and sound to manage and grow emotional wellbeing.
*Understanding Art Therapy
Drawing and creating in silence
Togetherness' – a group activity
Bilateral mark-making: exploring the somatic impact
The Natural Connection' – mindful garden-based walk and nature observation
Breathing and grounding techniques
Refreshments provided
This is a free event open to anyone over the age of 18
The Muslim Community, for generations, have found artistic expressions of their faith to have immense healing properties. It doesn't just have to be a diagnosable disease or even a calamity that you are in need to work through, but rather to help yourself internally and to expand your spiritual wellness. Art has been used traditionally in Islamic history as a method of cathartic processing. It can also be a mode to allow one's spirit, which contains inherent creativity, to be a mode of inspiration. To date, calligraphists of the Muslim world sit around with their pupils allowing their spirits to radiate inspiration through the choice of Qur'anic scriptures they compose on paper. These selections inspire the writer to approach life through a new lens. Join The Lantern Initiative for this exciting art therapy workshop which will help you experience this emotional processing through artistic expression!
Saturday 13 August 2022
Allama Iqbal Centre
157 Cromwell Rd
PE1 2EL
2-6.30pm
***Please note children will not be allowed at this workshop – there are no children's facilities/activities provided onsite***
About our workshop facilitators:
Faisal Hussain is a local multi-disciplinary artist from Peterborough who's been creating publicly for 10 years. He loves sharing the benefits of creativity with society and has experience in coaching, mentoring, mental health, youth work, and community development. Faisal has completed five wall murals across Peterborough. Including the Peterborough City Hospital prayer rooms, Saj-martial arts gym, and inside Tesco Hampton shopping center.
Alison Hawtin is an independent Consultant Practitioner Art Therapist, Clinical Supervisor, Mentor, and Artist from Peterborough in Cambridgeshire. Alison has over 30 years of experience helping people with their emotional difficulties through art therapy and creativity and holds the art/creative mark-making centrally in her way of working. She is holistic in perspective, collaborative in approach, and trauma-sensitive in practice.
Alison worked for 17 years in multi-disciplinary Learning Disability Community and In-Patient NHS mental health teams and has held a part-time private practice working with adults and children and offering clinical supervision to practitioners, since 2007. She has worked online with Supervisees since 2015, and since 2020 offers online, in-person, or blended styles of contact for Therapy, Clinical Supervision, and Trainings.
---
Location:
Gladstone Connect/ Allama Iqbal Centre
157 Cromwell Rd
Peterborough , PE1 2EL United Kingdom
+ Google Map

---
More upcoming events