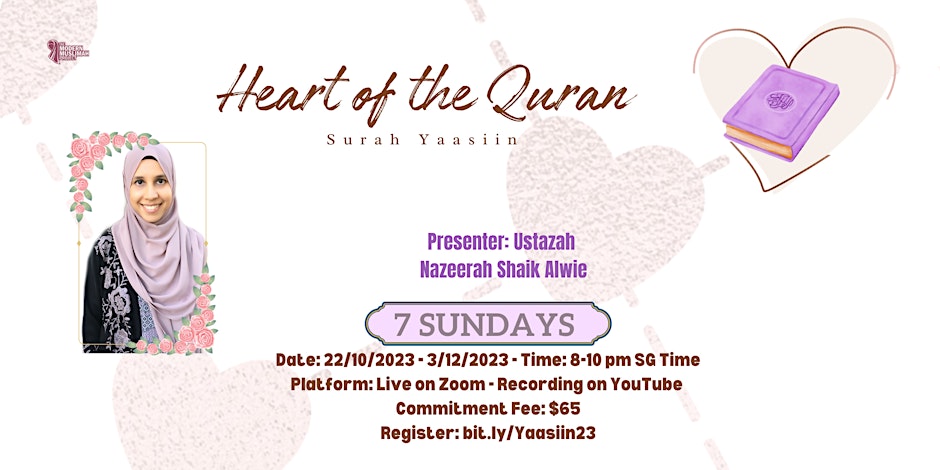 Description:
Introducing year-end workshop by Ustazah Nazeerah Shaik Alwie;Heart of the Qur'an: Yaasiin
Surah Yaasiin is one of the popular and familiar surah to many.
It is recited on every Thursday night, during tahlil, and even when we have specific haajat (need).
This is the time for us to comprehend and internalize this surah.
Bismillah!
In this 7-weeks workshop, we will strive to:
get a comprehensive analysis and interpretation of Surah Yaasin, delving into its meanings, themes, and historical context. You will gain a deep understanding of this important chapter of the Quran.
understand why Surah Yaasin holds significant spiritual and emotional value. In this workshop, you will have the opportunity to explore the profound messages and lessons within this Surah, allowing you to deepen your connection with Allah and experience spiritual growth.
weekly Q&A session will be available throughout the 7-weeks workshop. Whether you need clarification on certain verses or guidance on how to implement the teachings of this Surah in your daily life, Ustazah Nazeerah will give her best to address them to facilitate your understanding.
this workshop will be conducted online, allowing you to participate from the comfort of your own home. This offers flexibility in terms of timing and eliminates the need for travel. You can join the workshop at your convenience and access the recordings later if needed.
By joining Surah Yaasin workshop, you will have a unique opportunity to deepen your understanding of the Surah, and experience spiritual growth, InsyaAllah.
8-10pm (SG time)
Commitment fee of $65 (for 7 Sundays)
---
---
More upcoming events