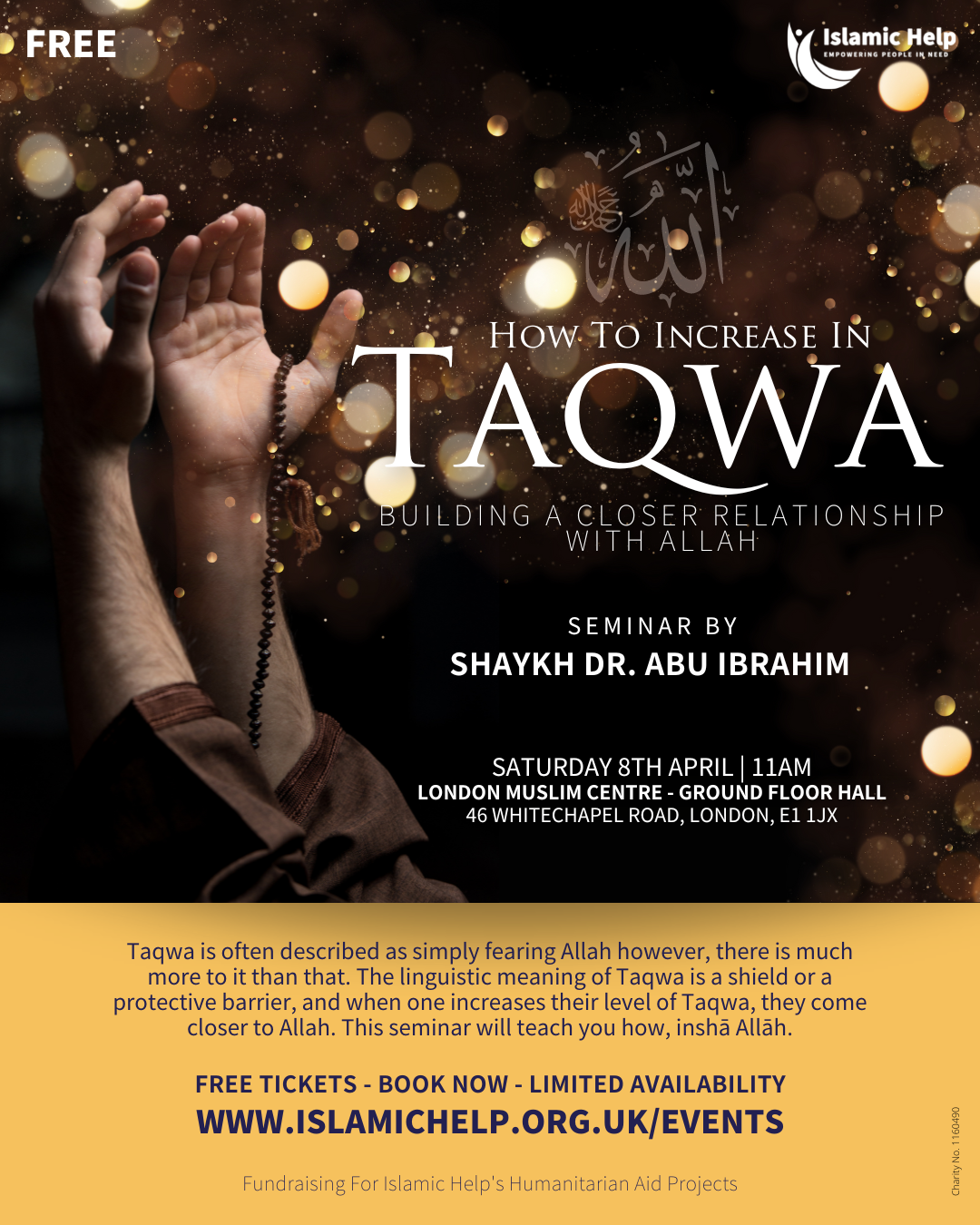 Description:
O believers! Patiently endure, persevere, stand on guard, and be mindful of Allah, so you may be successful.
[Qur'an 3:200]
Like how the heart is a means of survival for the human body and we cannot survive in its absence, Taqwa is a crucial and essential part of faith of a believer. Taqwa combines consciousness and fear of Allah to guide us in obedience to our Lord. It enables us to understand the rights and wrongs, our beliefs, and develop self-awareness, to direct us in obeying Allah's commands to stay on a path of righteousness.
Allah has blessed us in such beautiful ways whereby when we complete actions, are conscious of Him and remember Him, we are given blessings and rewards in the process. However, has our worship become so habitual that our intentions are now blank? Are we in a state of constant consciousness and remembrance of Allah?
Join Islamic Help and Shaykh Dr. Abu Ibrahim in an eye-opening seminar as we learn how to attain peace, tranquillity, and gratitude to Allah by increasing the level of Taqwa we have. We hope to also reaffirm and truly understand that nothing exists without Allah; and that Allah says whatever we are grateful for, He will increase us in blessings.
BRIEF TOPIC OUTLINE
• What it means to obey Allah
• Tackling an absent heart and mind
• The levels of Taqwa
• How to attain Taqwa
• The rewards and benefits of attaining Taqwa
• Improve your relationship with Allah
THE TEACHER – Shaykh Dr. Abu Ibrahim
Shaykh Dr. Abu Ibrahim has a PhD in law, specialising in Islamic Family Law. He also has a Masters in Islamic studies and has completed his Alim course. He has written academic papers published by both Cambridge and Oxford University. The Shaykh is an Imam and Khateeb and delivers Islamic lectures throughout the UK. He regularly works with Muslim charities, community organisations, and educational institutions including Islamic Societies (ISocs). He currently sits as an Islamic advisor on the board of several NGOs dealing with issues such as Islamic marriage and divorce, mental health, and youth in society. He is also a family and relationship counsellor.
We strongly recommend that you are prepared to take notes during the seminar.
TERMS & CONDITIONS AND EVENT RULES:
Strictly no video or audio recording is allowed.
Please try to wear a mask to help prevent the spread of Covid-19.
If you have any Covid-19 symptoms, please do not attend this event.
Seating will be segregated and is on a first-come, first-served basis, this means if you arrive late, there is a chance you will not be allowed to enter the venue as there is a seating capacity. Due to the number of people who book tickets and then do not turn up to events, we need to oversubscribe for the events.
Organisers reserve the right to refuse entry or evict any individual or group at any time at the organisers discretion.
Your ticket has no monetary value, we will not provide any cash or financial refunds.
CHILDREN:
PLEASE NOTE, THIS SEMINAR MAY DISCUSS SOME TOPICS WHICH MAY FRIGHTEN YOUNG CHILDREN, IF YOU THINK YOUR CHILD MAY BE FRIGHTENED BY THE TOPICS OF JINN OR EVIL SPIRITS PLEASE DO NOT LET THEM ATTEND THIS SEMINAR.
We appreciate that it can be difficult to attend valuable seminars when you have children to take care of and its difficult to find a child minder. Children are welcome to attend this event with you however they must be kept with you at all times. If your child is restless or makes a lot of noise, please do not bring them to this event as they will disturb other attendees and the seminar instructor. If your child makes a lot of noise and you are unable to calm them down, if they continue to run around the venue or between the seating areas, we will unfortunately have to ask you to leave. If you bring your child in a pram / push chair please DO NOT block the pathway with the pram / push chair as this will cause a health and safety issue and we will ask you to move or leave.
NOTE:
Food will not be served at this event, as this event is in the evening, we appreciate that some people might want to bring food with them, this is perfectly fine however please try to avoid any food which carries a strong smell as this could disturb other attendees. We will try our best to have a snack stall available during the event where items can be purchased.
During this seminar, we will have a short fundraising segment to support Islamic Help's Humanitarian Aid Projects.
PLEASE SHARE THIS POSTER WITH YOUR CONTACTS!
---
Location:
London Muslim Centre - Ground Floor Hall
46 Whitechapel Road
London , E1 1JX United Kingdom
+ Google Map

---
More upcoming events