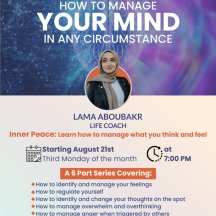 Description:
Life Coach Lama Aboubakr will take participants on the journey of mindset shifts and emotional regulation through this six part series. The first session will be on Monday, 8/28.
If you are tired of allowing your environment and the people in your life to impact your mental wellness and mindset, then this is for you. This course will help drive you toward inner peace, and learn practical ways to manage what you feel and think.
Six Sessions:
-How to identify and manage feelings, how to regulate yourself
-Developing cognitive awareness, how to identify and change your thoughts on the spot
– Understanding why actions come from our thoughts, how to change our actions
– Managing overwhelm and overthinking
– What to do when you're feeling triggered by others
– Blame and Shame: how to take responsibility
Refreshments Provided. Please register for babysitting if needed.
Lama Aboubakr is a certified life coach.  She trains and empowers high-achieving executives and individuals to manage their minds with whatever life throws at them. She focuses on developing the skills you need to understand yourself and your emotions and she provides an individualistic approach to uncover the obstacles in a way that aligns with your spiritual values and goals
For more information:
LOCATION
Masjid Khadijah – 5110 Manor Rd. Austin, TX, 78723
---
Location:
Masjid Khadijah
5110 Manor Rd
Austin , Texas 78723 United States
+ Google Map

---
More upcoming events