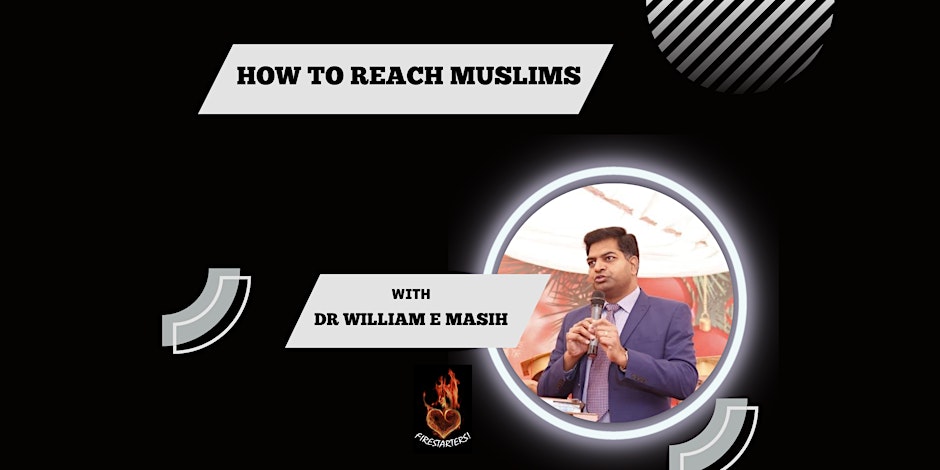 Description:
God is bringing Muslims into a place of freedom and light where they can hear the gospel, believe it freely, and follow it without any fear.
Muslims are here today on your streets; they are your neighbours, at your schools, universities, workplaces and, sitting next to you on the bus or at the park.
The purpose of this conference is to:
Help you to know Islam better,
Be equipped to answer questions from a Muslim according to their Islamic perspective.
Equip believers and encourage them to engage in Muslim evangelism.
Grow in boldness to talk about Jesus wherever they find themselves.
Equip you in today's culture, especially sharing your faith in your community or in the workplace.
About Our Guest Speaker
This Conference is being hosted by Firestarters International with input provided by Rev. Dr. William Elwin Masih, who has extensive experience in this subject.
Rev. Dr. William Elwin Masih has been in full-time ministry for over 25 years with a sincere heart for servant leadership. He has founded two organisations, namely CARE Christian Association for Raising Education, and Go and Save Ministries. He is currently pastor of a church in London. Rev. William is author of over 9 books including How to Reach Muslims, Secret of Blessings, Near the Stream of Living Water, Wings to Fly, Prayer that Touches the heart of God, and Discerning Spirits. Rev. William has travelled to Asia, Europe, Africa, North America, and Caribbean countries to preach the gospel. He has a heart for Muslims and reaches out to them in the London area, also conducting seminars and training sessions equipping believers to reach Muslims. He is working on church planting in Muslim countries. He is married to Darkhshinda and has three daughters all living in London.
The Day's Programme:
We have planned a pretty full programme to enable us to receive as much information from William as possible as follows:
Day Session:
Doors Open: 09:30am
Welcome and Introduction to the Conference: 10:00 to 10:15am
Morning: Session 1: 10:15 to 11:15am
Break: 15 min
Morning: Session 2: 11:30 to 12:30pm
Q & A: 12:30 to 1:00pm
Lunch Break: 1:00 to 2:00pm [please bring your own packed lunch]
Afternoon: Session 3: 2:00 to 3:00pm
Break: 15 min
Afternoon Session 4: 3:15 to 4:15pm
Q & A: 4:15 to 4:45pm
Close: 5:00pm
Evening Session:
Start: 7:30pm
Welcome and Introduction to the Evening Session: 7:30 to 7:45pm
Session 5: 7:45 to 8:30pm
Break: 15 min
Q & A: 8:45 to 9:30pm
Finish: 9:30pm
About Firestarters International
This Conference is being organised by Firestarters International. Firestarters focuses on equipping believers to be more effective at revealing Jesus Christ to the world around them. They work with local churches and believers with the goal of helping to equip disciples to be to be agents of transformation for the Kingdom of God. Firestarters organises a weekly street outreach in the city of Brighton & Hove, called PROCLAIM. This brings together believers from various local churches to share the gospel to a city in need, while growing in effectiveness as ambassadors of Christ. Firestarters also hosts an equipping conference every quarter. These conferences equip believers from various local churches and from various towns and cities to be better at reconciling their world to Christ.
If you would like to support the mission of Firestarters International, you can make a donation here.
Appreciations:
The Firestarters team are particularly appreciative of Rev. Dr. William Elwin Masih's support and that of the local churches in Brighton & Hove area, and beyond, that have supported this event and supported their members to be there.
---
Location:
Oasis Hall
Hangleton Way Hove
Hove , BN3 8EQ United Kingdom
+ Google Map

---
More upcoming events