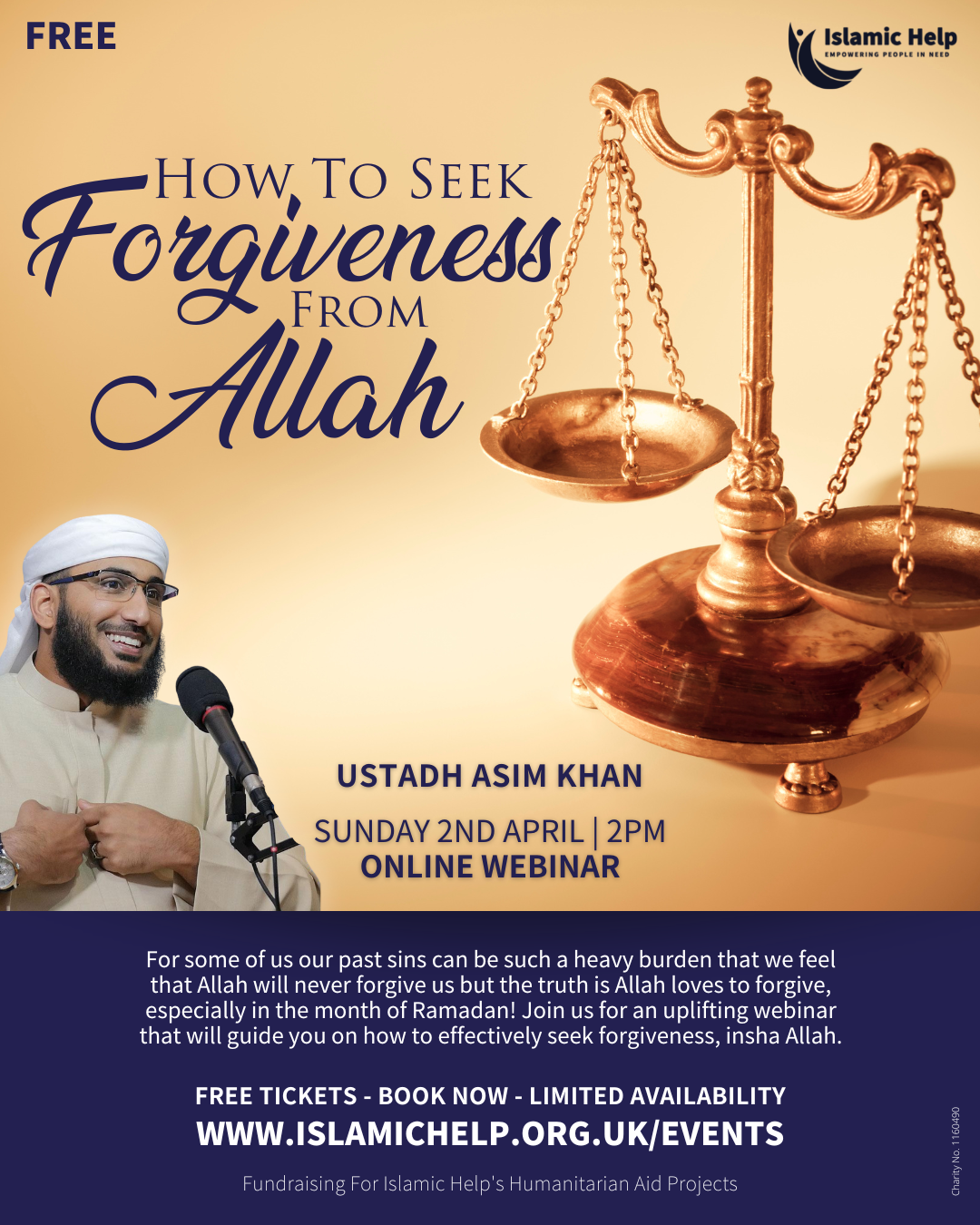 Description:
Allah loves to forgive and He loves it when we ask for His forgiveness.
Many of us find it difficult to cope with the weight of a sin from our past or maybe even one that we are committing repeatedly. For some people the impact of these sins can be so much that it prevents us from moving forward with our lives.
The reality is that Allah loves to forgive and Allah wants to see us succeed!
During this amazing webinar by Ustadh Asim Khan we will learn the etiquettes and techniques to effectively seek forgiveness from Allah so that we can utilise them in this month of Ramadan and throughout the rest of our lives.
THE TEACHER
Ustadh Asim Khan – is a Hafiz of Qur'an & an Imam for the Redbridge Islamic Centre. He is also a course instructor for the Sabeel institute, a published author of 3 books covering Tafsir and Seerah, and a social media campaigner for noble causes. Ustadh Asim Khan also presents regular Islamic shows on satellite channels.
From an early age, he excelled in academic studies and gained a Masters in Pharmacy from University College London as well as studying Arabic and Qur'anic sciences in Cairo, Egypt. Ustadh Asim Khan is well known for being able to break down and explain complex matters in an easy-to-understand, digestible format.
We strongly recommend that you are prepared to take notes during the webinar.
** ACCESS TO THE LIVE WEBINAR IS FIRST COME – FIRST SERVED! EVEN IF YOU HAVE REGISTERED ON EVENTBRITE, IF YOU ARE LATE TO THE WEBINAR YOU MAY NOT GET ACCESS. THIS IS THE SAME POLICY FOR ANYONE WHO HAS BOOKED A FREE TICKET OR A SPONSORED TICKET. **
REGISTRATION & WEBINAR ACCESS:
1. Please ensure you complete all the fields accurately, a unique registration link will be sent to you via e-mail once you have completed this. Look out for an e-mail from ISLAMIC HELP – WEBINAR LINK.
2. We will try to send you an SMS reminder about the webinar.
3. You can only use your unique webinar link, if you share it with someone else and they access the webinar using the same link, you will be logged out!
4. Spaces are limited, if you want to attend this webinar please make sure you sign up now, don't leave it until the last minute. Registration is first come – first served, this means if you log in late to the webinar you risk missing out.
5. You can access the webinar using an up-to-date mobile device like an iPhone or Android phone but we recommend you use a laptop or computer for the best viewing experience, however this isn't essential, 40% of our viewers use a mobile device.
FUNDRAISING: During the webinar we will have a very short fundraising appeal. Islamic Help is a humanitarian aid charity and the fundraising will go towards supporting our work around the world.
PLEASE SHARE THIS POSTER WITH YOUR CONTACTS!
---
---
More upcoming events