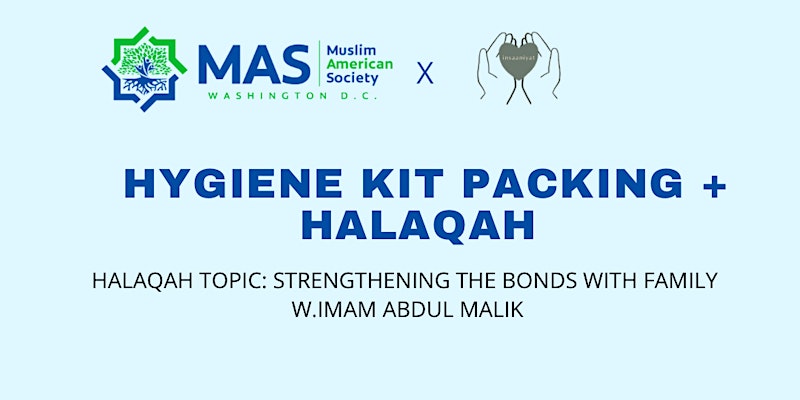 Description:
Join us for the Packing event + Halaqah!
Asalamalaikum wa rahmatullah wa barakatuhu,
We hope this invitation finds you in good health and imaan, in sha Allah. We are excited to announce our collaboration with MAS for our Hygiene Kit Packing event! Below you can find further information regarding this event.
During this event, we will be packing hygiene kits, snack bags, and meals for our underserved community at Katherine Hanley Family Shelter located in Fairfax. We will conclude our event with a halaqah with Imam Abdul Malik. Volunteers will be needed for drop off-of kits
*This is open for brothers and sisters. Registration is required prior to the event.*
We look forward to meeting you, in sha Allah, BarakAllahu Feekum!
-Insaaniyat Initiative
Have any questions? Reach out via Instagram: @Insaaniyat.Initiative
REGISTRATION
Registration is required. This is open to brothers and sisters. Please register for each individual in your party.
PROGRAM
2PM Introduction/Packing
4:30 PM Break for Asr & refreshments
5PM – 6PM continue packing event
7-8 – MAS Halaqah
PARKING
Attendees may park in any open parking spot.
MANDATORY HEALTH PRECAUTIONS
Attendees are encouraged to bring and wear a face covering.
Do not register for this event if you are experiencing any of the following symptoms of COVID-19: FEVER, LOSS OF TASTE OR SMELL, SHORTNESS OF BREATH, DRY COUGH, SORE THROAT, RUNNY NOSE.
WAIVER
By registering for this event, you agree/affirm that:
You have not had any COVID-symptoms or come into contact with anyone COVID positive in the last 14 days.
You shall comply with all requests and instructions from MAS ("Organization"), and any of their employees, directors, officers, staff, volunteers, and representatives (collectively "Representatives") during your attendance.
You are aware of CDC and other public health recommendations concerning the risks that COVID-19 exposure presents to individuals in certain age groups and/or with high-risk health conditions.
You allow the Organization to obtain and use your image or likeness taken through photography or videography during your attendance for the Organization's fundraising and promotional efforts.
You hereby fully and forever release and discharge the Organization and Representatives from, and expressly waive, any and all liability, claims, and demands of whatever kind or nature, either in law or in equity, that may arise from your participation at this event, including with respect to any exposure you may have to COVID-19 in connection therewith, and shall not make or bring any such claim or demand against the Organization and Representatives
---
Location:
Muslim American Society
6408 Edsall Road
Alexandria , Virginia 22312 United States
+ Google Map

---
More upcoming events