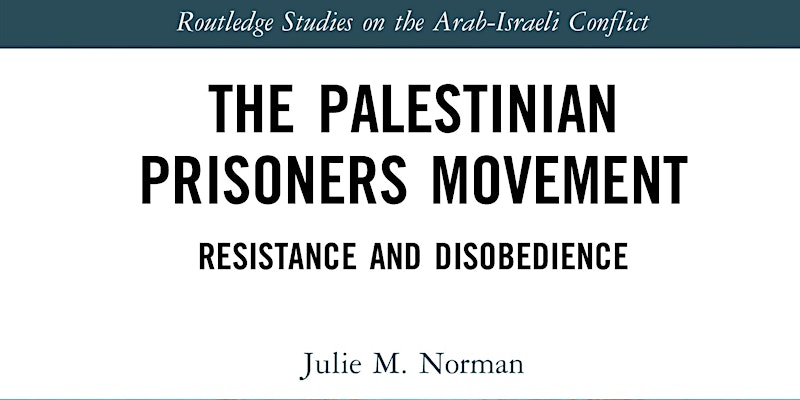 Description:
Join us to celebrate the publication of 'The Palestinian Prisoners Movement: Resistance and Disobedience' by Julie M. Norman.
Co-hosted by UCL Political Science, UCL Middle East Research Centre (MERC) and SOAS Centre for Palestine Studies.
Providing a contemporary history of the Palestinian prisoners movement, this book illustrates the centrality of the movement in the broader Palestinian national struggle. Based on direct interviews with former prisoners and former security sector personnel, it offers new insights into the strategies that prisoners employed to gain rights over time, as well as the tactics used by prison authorities to maintain control.
Prisons have functioned as microcosms of the broader Israeli-Palestinian conflict for decades, with the Israeli state aiming to use mass incarceration for security, and Palestinian prisoners seeking to take back the prison space for organizing and resistance. Prisoners' actions included but were not limited to hunger strikes, as prisoners often relied more on everyday acts of noncompliance and developing an internal "counterorder" to challenge authorities. The volume demonstrates how the Palestinian prisoners movement was intertwined with the Palestinian national movement, strongest in the popular mobilization era of the 1970s and 1980s, and significantly weaker and more fragmented after the Oslo Accords of the 1990s and the second intifada.
Presenting a fresh analysis of a central, but often overlooked aspect of the Israeli-Palestinian conflict, the volume offers valuable reflections on prison-based resistance in protracted conflicts more broadly. It is a key resource to students and scholars interested in contemporary conversations on mass incarceration, criminal justice, Middle East politics and history.
Presenters
Julie Norman (Author)
Julie Norman is a Lecturer in Politics and International Relations in the Department of Political Science at UCL, and a founding member of the UCL Middle East Research Centre. She has published widely on security, resistance, and human rights in protracted conflicts, with a focus on the Middle East and North Africa, and she is the author of four books on nonviolent activism. She has also conducted research for the UN in Lebanon, the British Council in Iraq, and the US Institute of Peace (USIP), and she has worked closely with NGOs in Israel-Palestine, Egypt, and South Sudan. She is a frequent commentator on Middle East politics on the BBC, CNN, Al Jazeera, and other media outlets.
Dina Matar (Discussant)
Dina Matar is the Chair of the Centre for Palestine Studies at SOAS, where her teaching and research focuses on media and conflict, political communication, cultural politics, memory, oral history and Islamist movements in the Arab World and its diaspora. She previously worked as a journalist and editor in the Middle East, Europe, Asia and the US, and her current work has focused on narrative politics and cultural and media histories in Palestine. Dina is co-founder and co-editor of the Middle East Journal of Culture and Communication, the first cross-disciplinary space for critical engagement with communication, culture and politics of the contemporary Middle East.
Seth Anziska (Moderator)
Seth Anziska is the Mohamed S. Farsi-Polonsky Associate Professor of Jewish-Muslim Relations at UCL, and a founding member of the UCL Middle East Research Centre.. His research and teaching focuses on Israeli and Palestinian society and culture, modern Middle Eastern history, and contemporary Arab and Jewish politics. He is the author of Preventing Palestine: A Political History from Camp David to Oslo (Princeton University Press, 2018), which was awarded the British Association for Jewish Studies Book Prize in 2019. His writing has appeared in The New York Times, The New York Review of Books, and Foreign Policy.
---
---
More upcoming events