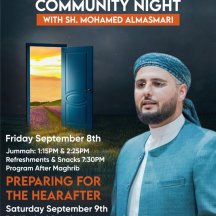 Description:
The Islamic Center of Greater Austin is very blessed to bring back  Sheikh Mohamed Al-Masmari from Detroit, Michigan. Sheikh Mohamed is an instructor at Miftaah Institute and Founder of Umma. You can hear his Quran Recitation here and his lectures
Jummah Khutbah: 1:15PM, 2:25PM
Refreshments & Snacks: 7:30PM 
Maghrib: 7:45PM Program begins after Maghrib
Topic: Preparing for the Hearafter

Saturday Fajr Breakfast and Khateria
About Sh. Mohamed Almasmari –
Shaykh Mohamed Almasmari, of Yemeni descent, was born and raised in Michigan. He memorized the Qur'an at a very early age and after high school, left to study at Sana'a University. Soon after, he obtained his Bachelor/Master Degrees in Islamic Law & Islamic Science from Yemen. During his studies, he was able to obtain ijaazas in recitation & teaching of Al-Qur'an, Qur'anic Exegesis (Tafseer-ul-Qur'an), Fiqh (Islamic Jurisprudence), Sahih Bukhari & Muslim and Imam Nawwawi's works such as the commentary to Sahih Muslim and Riyaad-us-Saliheen.
In 2007, he became the Imam of a local masjid in California few miles down from Shaykh Zaid Shakir, where he left a very high standard and tough shoes to fill. Then, In 2009, he was called upon to serve in Brooklyn in a community that was desperately in need of an Ameer (leader). Within two years, Alhamdulillah Shaykh Almasmari, by the Will of Allah swt was able turn that community around for the better. He has lead taraweeh prayers during the month of Ramadan since the age of 18. Now Shaykh Mohamed Almasmari is the Imam and Khatib at Muslim Unity Center in Bloomfield Hills Michigan.
LOCATION
Islamic Center of Greater Austin – 5110 Manor RD. Austin, TX, 78723
---
Location:
Islamic Center of Greater Austin
5110 Manor RD
Austin , Texas 78723 United States
+ Google Map

---
More upcoming events