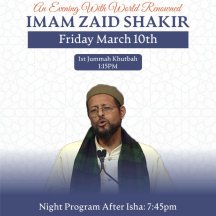 Description:
ICGA is very blessed to have World Renowned Imam Zaid Shakir join us in Austin for a community night event.
Jummah Khutbah: 1:15PM
Dinner: 7:00PM
Night Program: 7:45PM
About Imam Zaid Shakir:
Shakir is co-founder and chairman of United For Change,[17] whose stated goal is to leverage the diversity of the Muslim and interfaith community and address divisive obstacles.[18] In 2015, he signed the official Memorandum of Understanding between Zaytuna College and Hartford Seminary in Connecticut.[19] He is one of the signatories[20] of A Common Word Between Us and You, an open letter by Islamic scholars to Christian leaders, calling for peace and understanding.
Shakir assumed leadership of the Muslim Alliance in North America (MANA) from 2020 until 2022, which is a broad-based alliance of Muslims dedicated to striving for justice and promoting what they deem as the "life-giving truth" of Islam.[21] He has been listed in the 500 Most Influential Muslims (also known as The Muslim 500), an annual publication compiled by the Royal Islamic Strategic Studies Centre in Amman, Jordan, which ranks the most influential Muslims in the world.[22]
Inspired to work with religious groups on sustainable development and climate change, he has taken "action for the earth" in partnership with the organization Green Faith.[23] The organizations mission is to "inspire, educate, organize, and mobilize people of diverse religious and spiritual backgrounds around the globe for environmental action."[24][25]
Zaid Shakir is one of many signatories to a statement prepared by religious leaders from around the world who presented the UN Secretary General with a declaration[26] in support of the Paris Climate Agreement.
---
---
More upcoming events