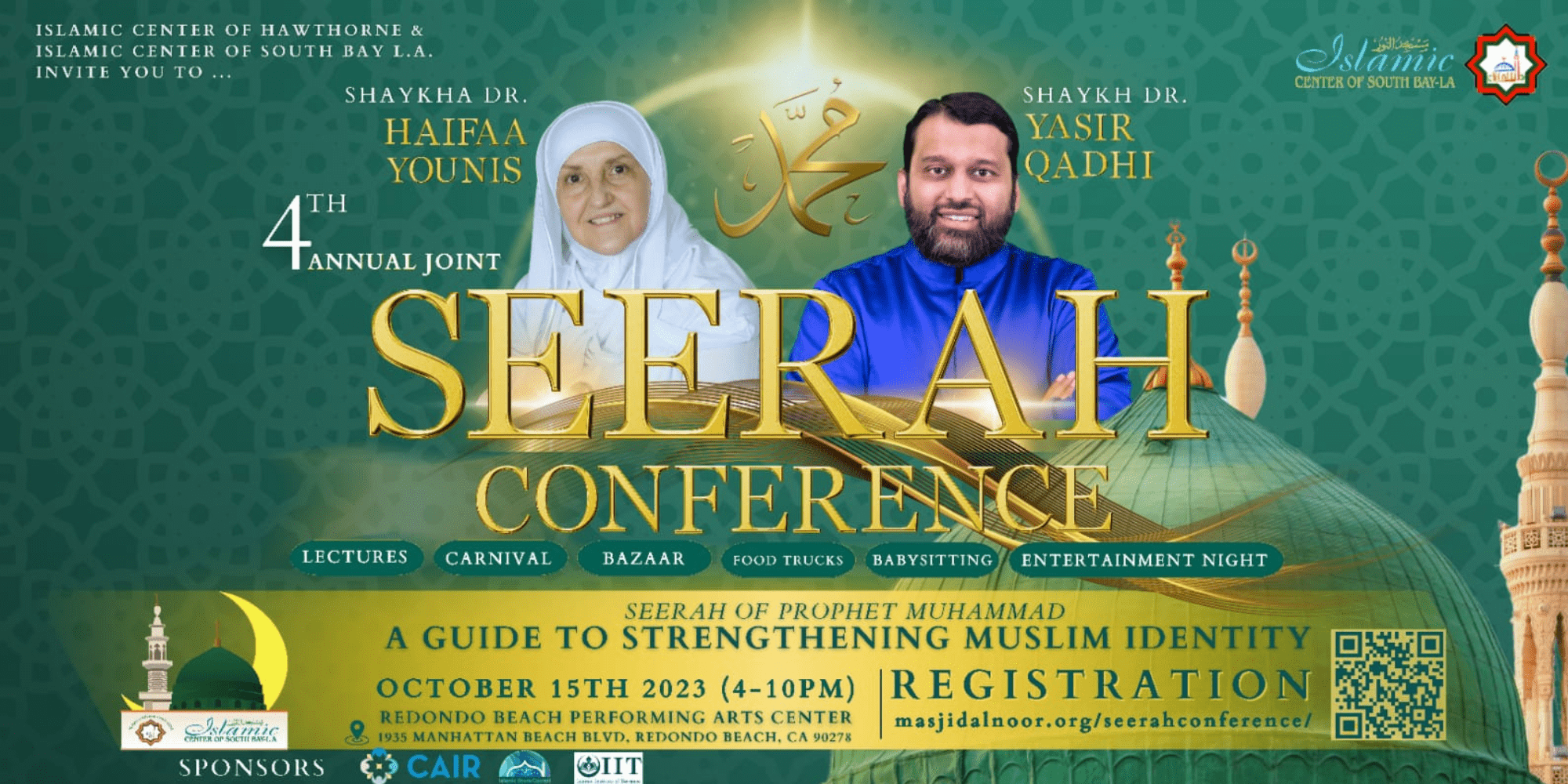 Contributed By:
events coordinator
Organizing Institution:
Islamic Center of South Bay-LA (ICSB)
Contact email:
[email protected]
Start Date:
October 15, 2023 (4:00pm)
End Date:
October 15, 2023 (10:00pm)
Cost:
$15 - $25
Website:
https://masjidalnoor.org/seerahconference/
Redondo Beach Performing Arts Center – Redondo Beach – California – United States
Description:
Sheikh Dr. Yasir Qadhi
Dr. Yasir Qadhi, PhD, is a resident Scholar of the Memphis Islamic Center, a professor at Rhodes College in the Department of Religious Studies, and is the Dean of Academic Affairs at AlMaghrib Institute. He graduated with a BSc in Chemical Engineering from the University of Houston, and studied at the Islamic University of Madinah where he completed a BA from the College of Hadith and Islamic Sciences followed by a MA in Islamic Theology from the College of Dawah. He then returned to the United States, and completed a PhD in Religious Studies from Yale University. He is one of the few people who has combined a traditional Eastern Islamic seminary education with a Western academic training of the study of Islam.
Sheikha Dr. Haifaa Younis
Dr. Haifaa Younis is an American Board Certified Obstetrician and Gynecologist, and the founder and Chairman of Jannah Institute. She teaches seminars on the thematic commentary of various chapters of the Holy Qur'an and their practical relevance in our day-to-day living. She also offers retreats on key topics that combine the inner essence of Islam with an outward expression of practice. Dr. Haifaa graduated from the Mecca Institute of Islamic Studies in Jeddah, Saudi Arabia and completed memorizing the Qur'an at Al-Huda Qur'an Memorization School in Jeddah. She is passionate about spreading the word of Allah (swt) and igniting the love of Islam and the Qur'an through her teachings.
Event Highlights
🧒🏻 Children's Program 👩🏻
Heartfelt Qirat, Nasheed and presentation by children from our Al-Noor Weekend School, Al-Noor Quran Academy, ICH Quran Memorization Center and from Al-Huda School.
💫 Community Bazaar ✨
Enjoy the unique shopping experience of a traditional bazaar while helping support the local community businesses. Shop for hijabs, burkha & abayas, shalwar-kamez sets and other traditional Muslim clothing.
🍬🍭 Carnival 🎪🍿
Designed for kids to enjoy when they immerse themselves in the vibrant and fun festivities as they play games, enjoy the jumper, have pop corn, cotton candy, snow cone, pizza and much more…
🍔🌮 Food Festival 🥙🥪
Enjoy Live cooking and indulge in exotic halal cuisines from popular local Muslim owned restaurants and food vendors.
-Halal Mexican Tacos and popular specials.
-South Asian delights
-Persian cuisine
🎼 Islamic Entertainment 🎤
Nasheed and Islamic Songs.
👶🏻 FREE Baby Sitting : 👧🏻
Attentive child care services will be available free of cost for children 3-5 years old.
---
Location:
Redondo Beach Performing Arts Center
1935 Manhattan Beach Blvd
Redondo Beach , California 90278 United States
+ Google Map

---
More upcoming events