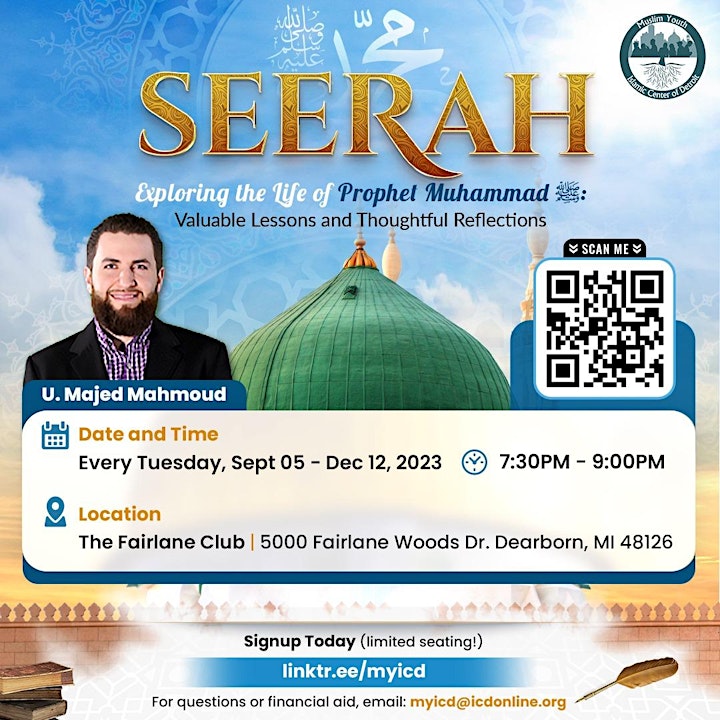 Description:
Seerah of Prophet Muhammed (PBUH) – Part 2 Fall 2023
A Seerah Course for 16 & Older!!
The Seerah is the biography of the greatest human being that ever walked the surface of this Earth, who Allah sent as a Mercy to Mankind. It is filled with many inspiring stories and lessons.
"Modern questions…. Require timeless solutions. And the answers can be found within the Seerah of our Timeless Prophet (SAW). How?
Through stories of how he gave the Prophetic example on how to handle difficult situations, the Prophetic example on how to lead a good life, the Prophetic example that exists as the solution to the struggles of then, now, and forever."
Join us in a weekly gathering of knowledge as we deep dive into the Seerah Ocean given by none other than our beloved U. Majed Mahmoud.
Date & Time: Every Tuesday | Sept 05 – Dec 12, 2023 (7:30PM-9:00PM)
Location: The Fairlane Club
Questions or Financial Aid: Email [email protected]
Instructor: U. Majed Mahmoud
---
Location:
The Fairlane Club
5000 Fairlane Woods Drive
Dearborn , Michigan 48126 United States
+ Google Map

---
More upcoming events