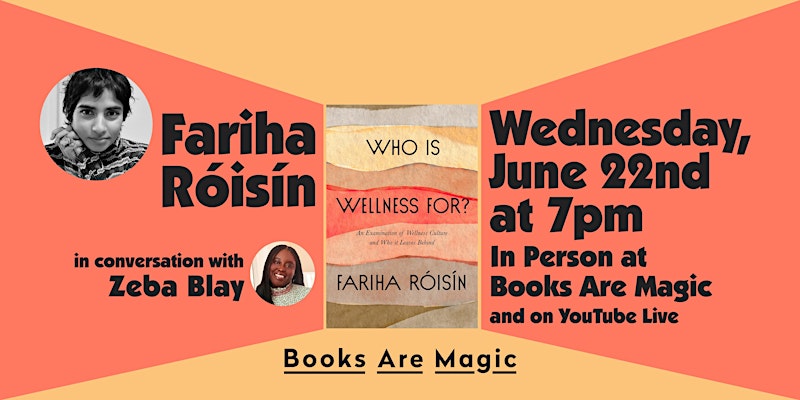 Description:
"Who is Wellness For? is a plea for empathy, hope, and yes, self-care." —Stephanie Danler, author of Sweetbitter and Stray
Event guidelines:
All guests must be vaccinated to attend, and must provide proof of vaccination in order to enter event.
All attendees must wear a face mask at all times.
Tickets are limited to restrict capacity at our store, and each ticket will include either a copy of the featured book or a $10 Books Are Magic gift card.
Additional copies of the book will be available for purchase at the event.
A signing will follow the talk.
Home address is collected for contact tracing purposes; it will not be used otherwise.
The event will also be broadcast on YouTube: https://youtu.be/44aq8izcM30
As a reminder: If you are not feeling well, please do not come to the event, even if you have a ticket; email us and we'll work it out.
If you have any questions regarding these guidelines or to request accessibility accommodations, please contact [email protected].
The multi-disciplinary artist and author of Like a Bird and How to Cure a Ghost explores the commodification and appropriation of wellness through the lens of social justice, providing resources to help anyone participate in self-care, regardless of race, identity, socioeconomic status or able-bodiedness.
Growing up in Australia, Fariha Róisín, a Bangladeshi Muslim, struggled to fit in. In attempt to assimilate, she distanced herself from her South Asian heritage and identity. Years later, living in the United States, she realized that the customs, practices, and even food of her native culture that had once made her different—everything from ashwagandha to prayer—were now being homogenized and marketed for good health, often at a premium by white people to white people.
In this thought-provoking book, part memoir, part journalistic investigation, the acclaimed writer and poet explores the way in which the progressive health industry has appropriated and commodified global healing traditions. She reveals how wellness culture has become a luxury good built on the wisdom of Black, brown, and Indigenous people—while ignoring and excluding them.
Who Is Wellness For? is divided into four sections, beginning with The Mind, in which Fariha examines the art of meditation and the importance of intuition. In part two, The Body, she investigates the physiology of trauma, detailing her own journey with fatphobia and gender dysmorphia, as well as her own chronic illness. In part three, Self-Care, she argues against the self-care industrial complex but cautious us against abandoning care completely and offers practical advice. She ends with Justice, arguing that if we truly want to be well, we must be invested in everyone's well being and shift toward nurturance culture.
Deeply intimate and revelatory, Who Is Wellness For? forces us to confront the imbalance in health and healing and carves a path towards self-care that is inclusionary for all.
Fariha Róisín is a multidisciplinary artist, born in Ontario, Canada. She was raised in Sydney, Australia, and is based in Los Angeles, CA. As a Muslim queer Bangladeshi, she is interested in the margins, liminality, otherness, and the mercurial nature of being. Her work has pioneered a refreshing and renewed conversation about wellness, contemporary Islam, and queer identities and has been featured in The New York Times, Al Jazeera, The Guardian, and Vogue. She is the author of the poetry collection How To Cure A Ghost (2019), as well as the novel Like A Bird (2020), and most recently Who is Wellness For (2022).
Zeba Blay is a writer and cultural critic who has contributed to publications including The New York Times, The Village Voice, ESSENCE, Shadow and Act, Film Quarterly, and Indiewire. Formerly Senior Culture Writer at HuffPost, Blay has spent her career writing about pop culture at the intersection of race, gender, and identity. In 2021 she published her debut essay collection, Carefree Black Girls, which was chosen by Kirkus as one of the Best Nonfiction Books of the year. Born in Accra, Ghana, she is currently based in the New York City area.
---
Location:
Books Are Magic
225 Smith Street
Brooklyn , New York 11231 United States
+ Google Map

---
More upcoming events