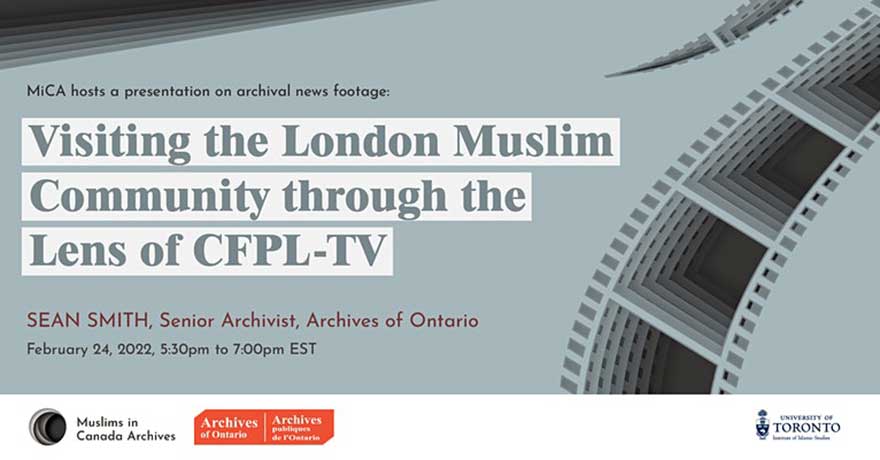 Description:
MiCA hosts Sean Smith from the Archives of Ontario as he presents archival news footage of Muslims in London, Ontario from the mid-1900s.
About this event
Join us as we look back in time to a period when the Canadian Muslim communities experienced rapid growth.
CFPL-TV was a private television station in London, Ontario on-air from the early 1950s up until the early 1990s. Broadcasts from this company have since been held in the Archives of Ontario, including a selection of clips showcasing the London Muslim communities. These are some of the earliest moving images of Muslim communities in Ontario spanning from 1959-1970.
We hope this will be a collaborative space for members of Muslim communities from in and around London to share their thoughts on the footage and their memories from this time and after.
The Community Collaborations Learning Series is a series of collaborative events where MiCA hosts a discussion or talk with an archive or related public history/community storytelling/cultural heritage initiative. These events allow MiCA to leverage its platform and audience to showcase the multitude of archives and archives-adjacent initiatives to a wider audience and learn from other related initiatives about community-centered, decolonial, anti-racist, and radical archival practice.
About the Archives of Ontario:
The Archives of Ontario (AO) is the largest provincial archives in Canada, and the premier source of information about the history of the land we now call Ontario and the people who live on it. Its collections come from both the Government of Ontario and from individuals, businesses, and organizations whose stories illustrate the history and development of Ontario.
Over the course of the last few years, the AO has been actively working with communities, archives, and other institutions, such as MiCA, to identify how it can best support memory work wherever it is happening. There are many stories to tell and the AO wants to be a trusted partner in sharing them.
About the Muslims in Canada Archives:
The Muslims in Canada Archives (MiCA), a collaborative and participatory initiative at the Institute for Islamic Studies (IIS), provides a platform for the missing Muslim voices in Canada.
MiCA acquires, organizes, preserves, and makes accessible records of and about Canadian Muslim individuals and organizations that possess enduring value for the preservation of the history and documentary heritage of Muslims in Canada.
About Sean Smith, Senior Archivist
Sean Smith is a Senior Archivist in the Collections Development and Management Unit at the Archives of Ontario, located in Toronto, Ontario. He previously held positions at the Clara Thomas Archives at York University and Library and Archives Canada. In total, he has been preserving and sharing history for over 20 years. During the pandemic, he has been focused on issues related to community engagement, GLAM-Wiki, and digital records. He is an active member of the archival community in Canada as well as a runner, a reader, and a father of two.
About Moska Rokay, Community Archivist
Moska Rokay is the Digital Humanities Research Fellow at the Institute of Islamic Studies (University of Toronto) tasked with coordinating the Muslims in Canada Archives (MiCA). She is an advocate for community-centered, activist archives, especially of diaspora communities. She completed her Master of Information at the University of Toronto (2019). In 2020, she was the recipient of the ACA New Professional Award and Archivaria's Gordon Dodds Student Paper Prize. She currently sits on the Board of Directors of the Archives Association of Ontario (AAO) as Director Without Portfolio.
---
---
More upcoming events