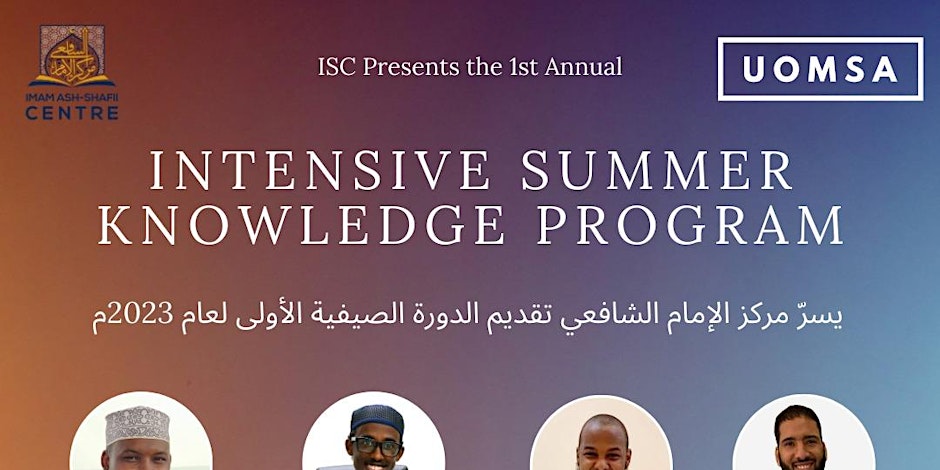 Description:
Imam ash-Shafii Centre (ISC) and the uOttawa MSA are excited to bring you an incredible program this summer.
Join us for an invigorating exploration of various Islamic texts across different scientific fields, ranging from Aqeedah, Manners, Tazkiyah, Usul al Fiqh, Hadith, and Tafsir and more in between.
This 5-day series is designed to be more than a standard class, providing an intensive learning experience that deepens your understanding of the Qur'an and Sunnah.
Our goal is simple: to equip you with fundamental knowledge that enhances your interaction with the Qur'an & Sunnah, enabling you to carry forward this understanding into your daily life and share it with others.
Don't miss out on this exciting opportunity to immerse yourself in the rich world of Islamic studies. Get ready to learn, share, and grow with us!
The dates and times are included in the poster, so make sure to check those out for further details!
Included in the $15 fee is your course booklet for the program.
Although light refreshments will be served, we encourage all students to pack their own lunch. There will be breaks during class as well.
We look forward to seeing you join us for this incredible knowledge opportunity!
---
Location:
Learning Crossroads (CRX)
100 Louis-Pasteur Private Room 240 (2nd Floor)
Ottawa , Ontario K1N 9N3 Canada
+ Google Map

---
More upcoming events