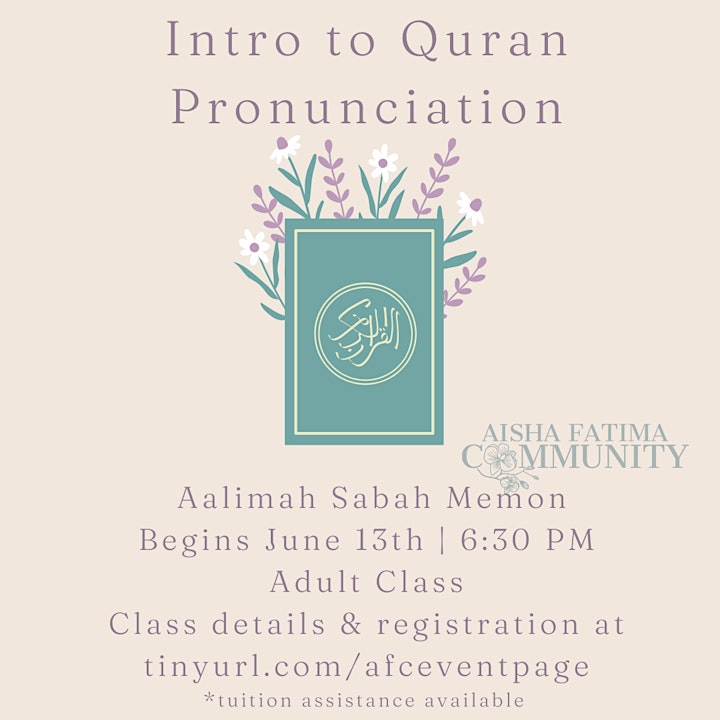 Description:
Intro to Quran Pronunciation
Join us for an in-person event where we will be introducing the basics of Quran pronunciation. This event is perfect for beginners who are interested in learning how to recite each letter from the Quran accurately.
Adult Women Only Ages 18+
Class Dates: Tuesdays June 13,20,27 and July 11. There is no class on July 4th.
Time: 6:30PM-7:30PM
During this class, you will have the opportunity to learn from Aalimah Sabah Memon who will guide you through the correct pronunciation of the Quranic words. You will also have the chance to practice what you have learned and receive feedback from the teacher.
This is a great opportunity to improve your Quranic recitation skills.
Aalimah Sabah Memon is a native of the north side of Chicago. Her love and interest for teaching and learning has been apparent from a young age. She attained a degree in elementary education from Benedictine University. She also attained her aalimiyyah degree at Shariah Board/Rahmat-e-Alam Foundation from where she attained ijaazaat in arabic, fiqh, tafseer, hadith and seerah. Aalimah Sabah is a dedicated and energetic educator bringing her love of Allah into all her interactions. She currently teaches at a private school in the Western suburbs and continues her quest for more knowledge at Darul Qasim College.
Please email us at [email protected] for tuition assistance.
Aisha Fatima Community is a women only space
We are located at 330 E Roosevelt Rd. Ste 100 Lombard, IL 60148. Our space is at the front of the building.
Who we are: Aisha Fatima Community is a non-profit organization that aims to create a space for women to build a relationship with their Deen and Muslim culture; catered to and led by Muslim Women.
Our Goals: Aisha Fatima Community aims to serve Muslim women of all backgrounds & ages. Wherever you are in life, we want this space to be your source of comfort while navigating the complexities of womanhood.
---
Location:
Aisha Fatima Community
330 East Roosevelt Road #STE 100
Lombard , Illinois 60148 United States
+ Google Map

---
More upcoming events