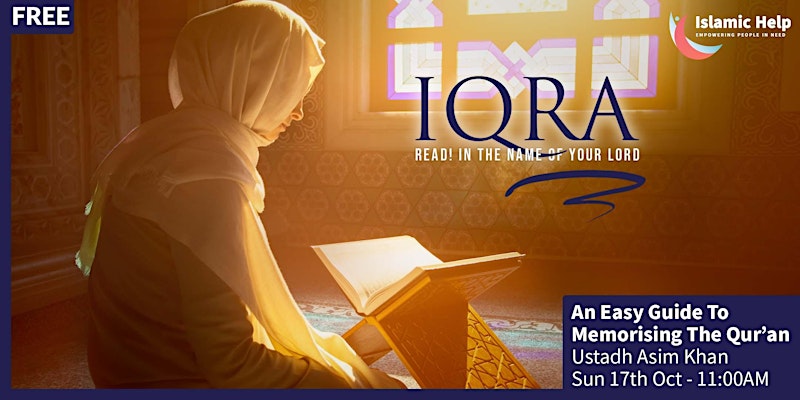 Description:
Learn how to memorise the Qur'an using Ustadh Asim Khan's own tried and tested method!
About this event
An Easy Guide To Memorising The Qur'an
Date: Sunday 17th October
Time: 11:00 – 13:00
Islamic Help is honoured to present an online webinar on how you can memorise the Qur'an in a busy world, instructed by none other than Ustadh Asim Khan.
For a lot of us memorising the Qur'an is an absolute dream, but we often find the prospects of doing so very limited due to our busy lifestyles. We have busy work schedules, we are raising children, we are maintaining a household and relationships, the list just goes on. For others it can seem quite daunting, a mammoth of a task that puts us off the idea, how do you memorise a book that's written in a foreign language?! Rest assured, even with all the obstacles mentioned and more you can absolutely memorise the Qur'an!
Ustadh Asim Khan has developed a unique course that will give you, no matter what your background or situation, the tools you will need to memorise the Qur'an effectively, efficiently and enjoy the whole process inshaa Allah.
This course is for parents and children, young and old, Arabs and non-Arabs, religious and non-religious, motivated, and unsure people alike. So, join us on your own or with your family and friends and take the steps to building a relationship with the noble Qur'an.
Brief Outline of Topics Covered
• Why do we need to memorise the Qur'an?
• Do we need a teacher to memorise the Qur'an?
• Motivation and Techniques
• The Plan
• Healthy Habits
The Teacher
Ustadh Asim Khan has dedicated much of his life to teaching the Qur'an, he is a published author of two books exploring the Tafsir of Surah Yasin and Surah Mulk and he regularly teaches Arabic to non-Arabic speakers. Most of you already know that… but did you know that he memorised the Qur'an whilst working as a fulltime pharmacist? He didn't get to memorise as a child, or even as a teenager, but he worked out a way of memorising it whilst working and supporting a family! And now he wants to share that with YOU.
You will automatically be registered for both parts of the webinar, you DO NOT need to individually register for both days.
** ACCESS TO THE LIVE WEBINAR IS FIRST COME – FIRST SERVED! EVEN IF YOU HAVE REGISTERED ON EVENTBRITE, IF YOU ARE LATE TO THE WEBINAR YOU MAY NOT GET ACCESS. THIS IS THE SAME POLICY FOR ANYONE WHO HAS BOOKED A FREE TICKET OR A SPONSORED TICKET. **
REGISTRATION & WEBINAR ACCESS:
1. Please ensure you complete all the fields accurately, a unique registration link will be sent to you via e-mail once you have completed this. Look out for an e-mail from ISLAMIC HELP – WEBINAR LINK.
2. We will try to send you an SMS reminder about the webinar.
3. You can only use your unique webinar link, if you share it with someone else and they access the webinar using the same link, you will be logged out!
4. Spaces are limited, if you want to attend this webinar please make sure you sign up now, don't leave it until the last minute. Registration is first come – first served, this means if you log in late to the webinar you risk missing out.
5. You can access the webinar using an up-to-date mobile device like an iPhone or Android phone but we recommend you use a laptop or computer for the best viewing experience, however this isn't essential, 40% of our viewers use a mobile device.
FUNDRAISING: During the webinar we will have a very short fundraising appeal. Islamic Help is a humanitarian aid charity and the fundraising will go towards supporting our work around the world.
PLEASE SHARE THIS POSTER WITH YOUR CONTACTS!
---
---
More upcoming events