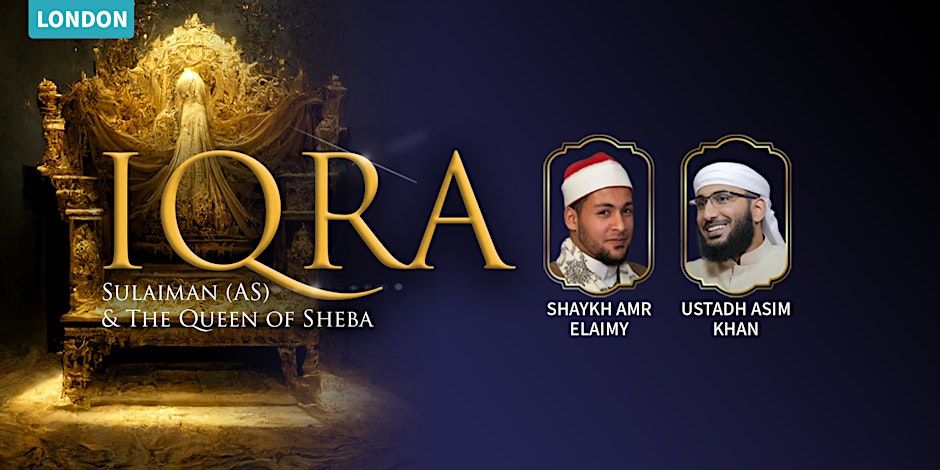 Description:
IQRA – The Story of Sulaiman (AS) & The Queen of Sheba!
[London – Doors Open 5:30PM Event Starts 6:00PM]
Hearing and feeling the majestic verses of the glorious Qur'an inspires the soul at any time. When the words of the Book of Allah are proclaimed in breath-taking fashion by a collective of incredible reciters, it becomes an occasion where hearts tremble and spirits soar.
Join us for a truly uplifting event where the beauty of the Qur'an will be transmitted into glorious and magnificent recitation, with Imaan-boosting reminders as we journey through one of the greatest stories from the Qur'an, the story of Sulaiman (AS).
During this event, we will benefit from spiritually enriching recitations by Shaykh Amr Elaimy, as well as inspirational reminders from Ustadh Asim Khan.
So, get yourself, your family and friends in a setting that allows you to fall further in love with the Qur'an and find more ways to connect deeper with the words of Allah SWT. This is an event not to be missed, especially when it's completely FREE to attend!
SPEAKERS BIO
Ustadh Asim Khan
Ustadh Asim Khan is a Hafiz of Qur'an & an Imam for the Redbridge Islamic Centre. He is also a course instructor for the Sabeel institute, a published author of 3 book covering Tafsir and Seerah, and a social media campaigner for good causes. Ustadh Asim Khan also presents regular Islamic shows on satellite channels.
From an early age, he excelled in academic studies and gained a Masters in Pharmacy from University College London as well as studying Arabic and Qur'anic sciences in Cairo, Egypt. Ustadh Asim Khan is well known for being able to break down and explain complex matters in an easy-to-understand, digestible format.
Shaykh Amr Elaimy
Shaykh Amr Elsayed Ahmed Elaimy has an Ijazah in the Hafs tradition and has a mastery over the maqaamaat styles/melodies of recitation. Shaykh currently teaches at The Oltan Project and for the last 5 years has been a teacher, an imam and leads taraweeh prayers at Solihull Hub. He has taught at the Birmingham Qur'an Academy and has recited at many events in the UK since his arrival.
Shaikh Amr also teaches Arabic language, Tajweed (theory and practical), hifz and Islamic studies.
EVENT RULES:
1. Strictly no video or audio recording is allowed.
2. Please try to wear a mask to help prevent the spread of Covid-19.
3. If you have any Covid-19 symptoms, please do not attend this event.
4. Seating will be segregated and is on a first-come, first-served basis.
5. Organisers reserve the right to refuse entry or evict any individual or group at any time at the organisers discretion.
CHILDREN:
We appreciate that it can be difficult to attend valuable seminars when you have children to take care of and its difficult to find a child minder. Children are welcome to attend this event with you however they must be kept with you at all times. If your child is restless or makes a lot of noise, please do not bring them to this event as they will disturb other attendees and the seminar instructor. If your child makes a lot of noise and you are unable to calm them down, if they continue to run around the venue or between the seating areas, we will unfortunately have to ask you to leave. If you bring your child in a pram / push chair please DO NOT block the pathway with the pram / push chair as this will cause a health and safety issue and we will ask you to move or leave.
NOTE:
Food will not be served at this event, as this event is in the evening, we appreciate that some people might want to bring food with them, this is perfectly fine however please try to avoid any food which carries a strong smell as this could disturb other attendees. We will try our best to have a snack stall available during the event where items can be purchased.
During this seminar, we will have a short fundraising segment to support Islamic Help's Humanitarian Aid Projects.
---
Location:
The East London Mosque & London Muslim Centre
82-92 Whitechapel Road
London , E1 1JQ United Kingdom
+ Google Map

---
More upcoming events