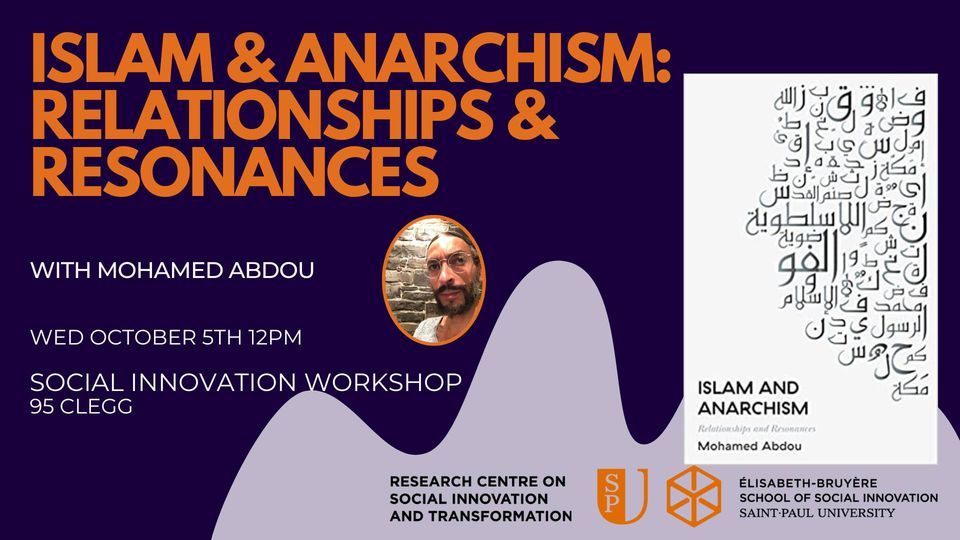 Description:
Join the Research Centre for Social Innovation and Transformation for a talk with Mohamed Abdou, in honour of the release of his new book Islam and Anarchism.
Mohamed Abdou is a North African-Egyptian Muslim anarchist activist-scholar. He is currently a Visiting Scholar at Cornell University and an Assistant Professor of Sociology at the American University of Cairo. His twenty years of activist research and experience centers on Palestinian, Indigenous, Black, and people of colour liberation, and draws on the Indigenous Zapatista movement in Chiapas, Mexico, as well as his participation in the Egyptian uprisings of 2011.
**We ask that people wear masks while indoors.**
Islam and Anarchism (Pluto Press)
Discourse around Muslims and Islam all too often lapses into a false dichotomy of Orientalist and fundamentalist tropes. A popular reimagining of Islam is urgently needed. Yet it is a perhaps unexpected political philosophical tradition that has the most to offer in this pursuit: anarchism.
Islam and Anarchism is a highly original and interdisciplinary work, which simultaneously disrupts two commonly held beliefs – that Islam is necessarily authoritarian and capitalist; and that anarchism is necessarily anti-religious and anti-spiritual. Deeply rooted in key Islamic concepts and textual sources, and drawing on radical Indigenous, Islamic anarchistic and social movement discourses, Abdou proposes 'Anarcha-Islam'.
Constructing a decolonial, non-authoritarian and non-capitalist Islamic anarchism, Islam and Anarchism philosophically and theologically challenges the classist, sexist, racist, ageist, queerphobic and ableist inequalities in both post- and neo-colonial societies like Egypt, and settler-colonial societies such as Canada and the USA.
About the Research Centre for Social Innovation and Transformation
The Research Centre for Social Innovation and Transformation brings an interdisciplinary lens of inquiry to the complex linkages between innovation and social transformation, as seen across multiple perspectives. In exploring these questions, we prioritize emancipatory theories, grounded in an analysis of systems of oppression. In doing so, we seek to contribute to a deeper and more interconnected understanding of the logics and strategies employed by social movements and grassroots communities, as well as the role of institutions. In particular, we are interested in their impacts on diverse systems of oppression including sexism, colonialism, racism, capitalism, and extractivism.
Working in close collaboration with the Élisabeth-Bruyère School of Social Innovation and the Mauril–Bélanger Atelier of Social Innovation, the CRITS creates space open to the community in order to co-construct and bring into being diverse collective action projects. This environment enables graduate students to become invested in a dynamic research space where they can build capacities in the production and dissemination of engaged research.
---
Location:
L'Atelier d'innovation sociale Mauril-Bélanger Social Innovation Workshop
95 Clegg St
Ottawa , Ontario Canada
+ Google Map

---
More upcoming events