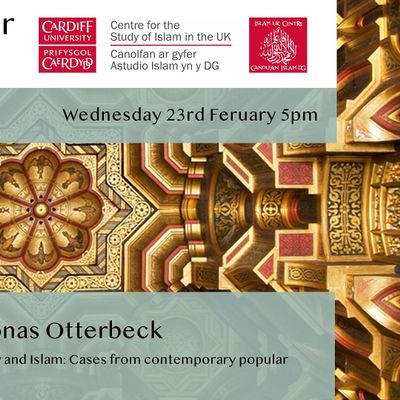 Description:
With our public seminar series, the Islam-UK Centre aims to promote scholarly and public understandings of Muslims and Islam in Britain.
Speaker: Professor Jonas Otterbeck
Title: Researching creativity and Islam: Cases from contemporary popular culture
Jonas Otterbeck is a Professor of Islamic studies at Aga Khan University – Institute for the Study of Muslim Civilisations. Otterbeck researches contemporary Islamic ideas and expressions. His most recent research is on Islamic pop music and especially the media company Awakening and its artists, such as Maher Zain. He also published on the identity constructions of Muslim youth and their understanding of Islam, the representation of Islam and Muslims in Sweden, and active citizenship among Muslims.
If an "Access the event" button does not appear once you have registered please use the link below
Join Zoom Meeting
Click here for the linkMeeting ID: 892 6443 4397
Password: 327019
Also check out other Workshops in Cardiff, Business Events in Cardiff
Please note: that photographs and a video will be taken of the lectures. Cardiff University will assume the consent of all those in attendance and those that appear in the media footage taken. Photographs and videos are taken with the view to use in University and link organizations' websites, marketing materials, and related media coverage. If you DO NOT agree to this please inform a staff member in the evening. If you do wish to withdraw permission at a later date you must inform Mark Bryant in writing ([email protected]).
Also check out other Workshops in Cardiff, Business Events in Cardiff.
---
---
More upcoming events