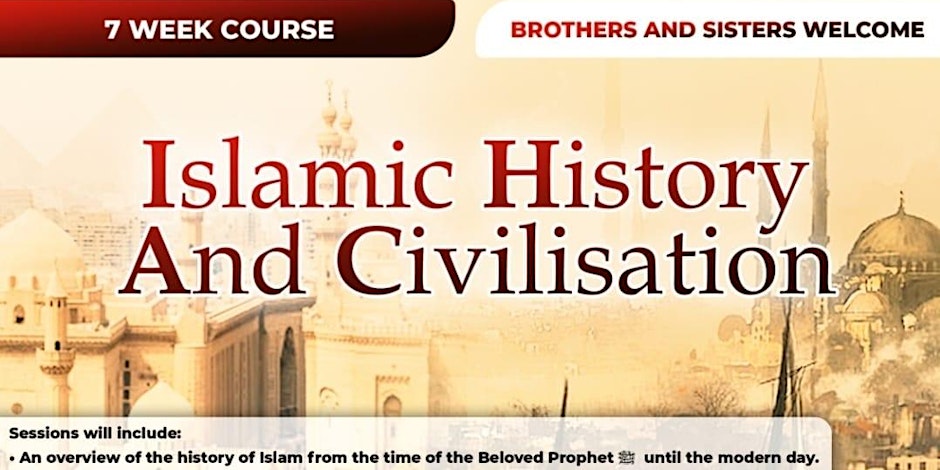 Description:
Islamic History and Civilisation
Have you ever wished that you had a better understanding of basic Islamic history? What happened after the Beloved Prophet ﷺ veiled from this world, and after the time of the Rightly Guided Caliphs?
Join us for this informative course in which we will give a complete overview of Islamic History, so that you will become more aware of the lessons from past events, and gain a better understanding of what happened when, and how that leads to, and potentially impacted, the present-day reality that we face.
Some of the topics that will be looked at will include:
Summary of the Seerah Of The Beloved Prophet ﷺ
The Rightly Guided Successors
The Umayyads and The Abbasids
Mass Conversions To Islam And The Rise Of Ahl Al-Sunna Wa'-l-Jama'h
Turning Inward: Tazkiyah, Zuhd, And Sufism
The Saljuqs, And The Crusaders
The Mongols And The Mamluks
Expansion Of Islam: Africa, India, And Anatolia
Rebirth Of Empires: Ottomans, Safavids, And Mughals
and much more insha'Allah
Course dates:
Session 1: Wednesday 14th June
Session 2: Wednesday 21st June
**Break for Eid ul Adha**
Session 3: Wednesday 5th July
Session 4: Wednesday 12th July
Session 5: Wednesday 19th July
Session 6: Wednesday 26th July
Session 7: Wednesday 2nd August
Timings
8pm-9.15pm
Course instructor:
Mawlana Muhammad Kaleem Al Azhari is a young influential Islamic Scholar of Ahlus Sunnah. He began his Islamic studies at an early age under the supervision of his respected father, Maulana Muhammad Iqbal Misbahi and Mufti Muhammad Ayyub Ashrafi completing his Dare Nizami at the local Madrasa. He is a graduate of Al Azhar in Cairo, Egypt.
Mawlana has devoted his life to learning, teaching and has been blessed with a unique style of delivery. He has translated many famous books from Arabic/Urdu to English and currently teaches in Bolton, at Noorul Islam Madrassa and Manchester Muslim college.
Location
Noorani Education Centre, Blackburn, BB1 7LL
Open to brothers and sisters. Segregated seating.
Distance Learning
The classes will not be streamed live. Those who cannot attend may sign up and audio recordings will be sent weekly.
---
Location:
Noorani Education Centre
Hartley Street
Blackburn , BB1 7LL United Kingdom
+ Google Map

---
More upcoming events