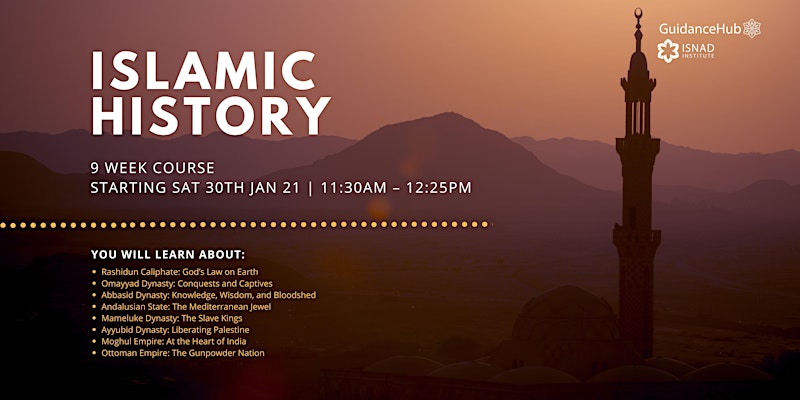 Description:
10-week course taking place once a week on Saturdays, this course is open to both males and females.
The rich heritage and matchlessness of the history of the Islamic World have intrigued Muslims and non-Muslims alike. Beginning with the Golden Age of the Prophet (peace be upon him) until our times, the Islamic World has seen the rise and fall of some of history's most epic rulers and civilizations.
Unit Aims:
Understanding of the various dynasties
Understanding of the rich Islamic heritage
A holistic view of Islam's history
What will I learn?
Omayyad Dynasty: Conquests and Captives
Abbasid Dynasty: Knowledge, Wisdom, and Bloodshed
Andalusian State: The Mediterranean Jewel
Mamluk Dynasty: The Slave Kings
Ayyubid Dynasty: Liberating Palestine
Moghul Empire: At the Heart of India
Ottoman Empire: The Gunpowder Nation
What will I achieve?
• Chart the expansion of various Islamic dynasties across 1300 years.
• Analyse the impacts of Islam's history on the current state of Muslims.
• Evaluate the nature of significant events, like the Crusades, from Muslim and Western sources.
• Identify the social, scientific, cultural, technological, and academic contributions of Muslim scholars from across 1300 years.
Feb 26th, 2022 – May 28th, 2022 (with break)
Open to all
Ages 14+
From £20
Full course material included
Limited places
Taught by experienced instructors
---
Location:
Guidance Hub
389 Waterloo Road
Manchester , M8 9AB United Kingdom
+ Google Map

---
More upcoming events