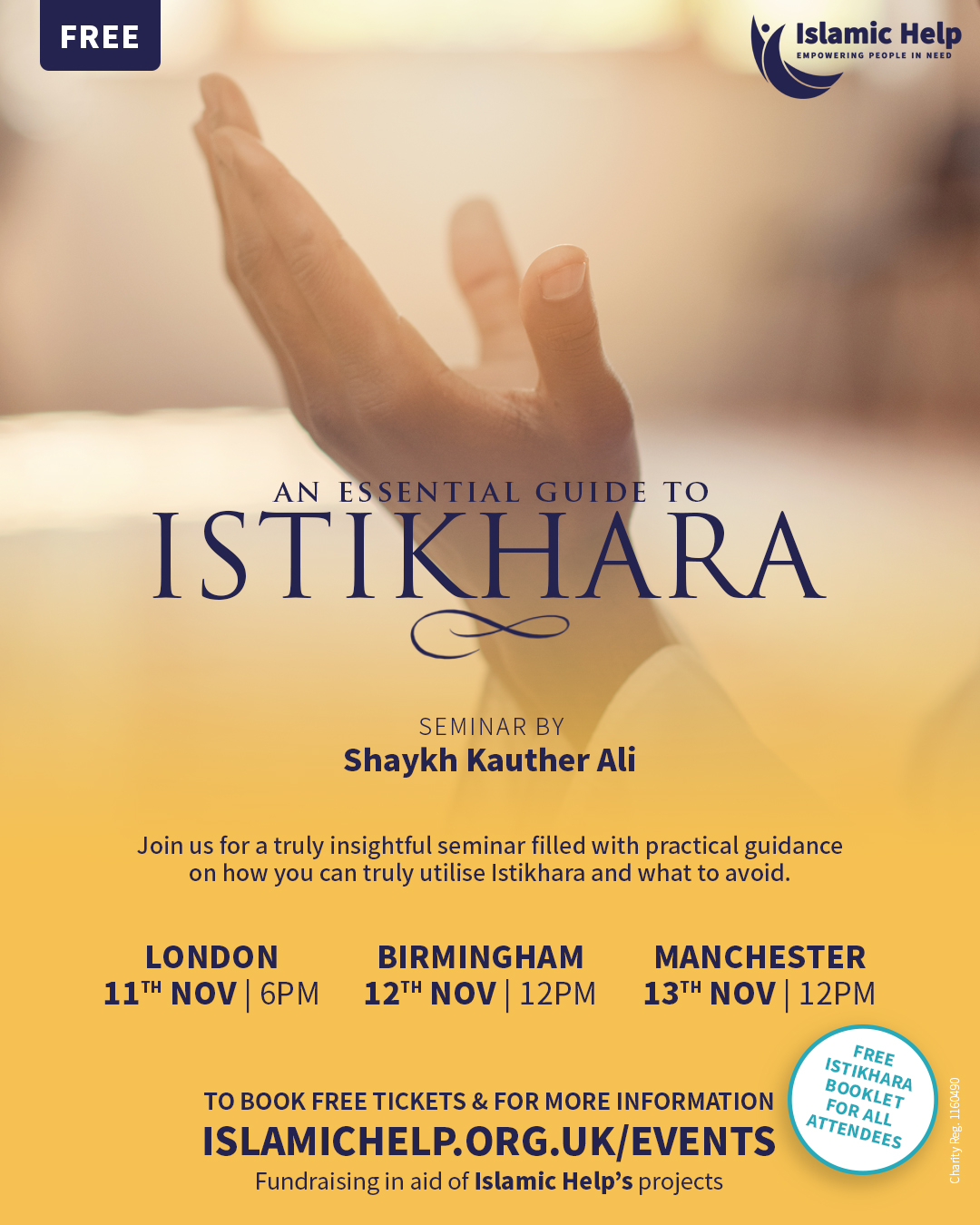 Description:
[Manchester – Doors Open 12:00PM Event Starts 12:15PM]
Often when we are faced with tough or important decisions in life, we may consult our family and friends, however as Muslims we have also been given the opportunity to ask Allah for guidance. Salat-ul-Istikhara is a prayer that the Prophet Muhammad (PBUH) and the Companions (AS) use to perform when they needed guidance with important decisions. It is encouraged that we also implement the practice of Salat-ul-Istikhara in our lives.
Today, many people reserve Salat-ul-Istikhara for decisions related to marriage and relationships however it can be applied to all aspects of life. As Muslims it's recommended that we always seek the guidance and support of Allah in all the good that we do.
During this FREE seminar you will understand exactly what Salat-ul-Istikhara is, learn how to perform it, gain a deeper understanding into what happens after you perform Salat-ul-Istikhara and receive advice on the best way to make decisions from an Islamic perspective.
This seminar will be delivered by the energetic and engaging Shaykh Kauther Ali who has been delivering seminars and courses for decades in the UK and abroad. Shaykh Kauther has a passion for the Qur'an and loves to explore Tafsir whilst taking students on a journey through the last revelation. As well as delivering Islamic seminars and courses, Shaykh Kauther regularly conducts international tours which include Al-Aqsa and Umrah. When he's not teaching the Islamic sciences, Shaykh Kauther spends his day teaching young students at a state school or delivering humanitarian aid to people in need around the world.
This seminar is open to all however we ask all guests to kindly dress modestly. There will be segregated seating for men and women. The organisers reserve the right to refuse entry or evict any person or group at any time. Seating is on a first-come, first-served basis.
EVENT RULES:
1. Strictly no video or audio recording is allowed.
2. Please try to wear a mask to help prevent the spread of Covid-19.
3. If you have any Covid-19 symptoms, please do not attend this event.
4. Seating will be segregated and is on a first-come, first-served basis.
5. Organisers reserve the right to refuse entry or evict any individual or group at any time at the organisers discretion.
CHILDREN:
We appreciate that it can be difficult to attend valuable seminars when you have children to take care of and its difficult to find a child minder. Children are welcome to attend this event with you however they must be kept with you at all times. If your child is restless or makes a lot of noise, please do not bring them to this event as they will disturb other attendees and the seminar instructor. If your child makes a lot of noise and you are unable to calm them down, if they continue to run around the venue or between the seating areas, we will unfortunately have to ask you to leave. If you bring your child in a pram / push chair please DO NOT block the pathway with the pram / push chair as this will cause a health and safety issue and we will ask you to move or leave.
NOTE:
Food will not be served at this event, we appreciate that some people might want to bring food with them, this is perfectly fine however please try to avoid any food which carries a strong smell as this could disturb other attendees. We will try our best to have a snack stall available during the event where items can be purchased.
During this seminar, we will have a short fundraising segment to support Islamic Help's Humanitarian Aid Projects.
---
Location:
PARK INN BY RADDISON
4 CHEETHAM HILL RD
CHEETHAM HILL , MANCHESTER M4 4EW United Kingdom
+ Google Map

---
More upcoming events