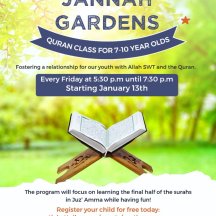 Description:
Join us in this custom Quran class for 7-10 year olds with Sister Nesreen, focused on fostering a relationship for our youth with Allah (SWT) and the Quran.
The program will focus on learning the second half of the surahs in Juz' Amma while having fun! Students will learn correct pronunciation of the week's selections. They will also learn the tafseer (exegesis) of the verses, as well as learning names of Allah swt and learning about the creation of Allah as referred to in the verses.
Your child will develop a connection to each surah, beyond the rote memorization of it, where he/she will find points of application to life.
The class will be every Friday from 5:30-7:30 p.m. at Masjid Khadijah.
May Allah SWT grant us understanding of His Noble Book and grant our children a lifelong connection to His Words and its application in their lives. May He make the Qur'an a spring of our hearts and a light in the darkness. Ameen
LOCATION
Masjid Khadijah – 5110 Manor Rd. Austin, TX, 78723
---
Location:
Masjid Khadijah
5110 Manor Rd
Austin , Texas 78723 United States
+ Google Map

---
More upcoming events